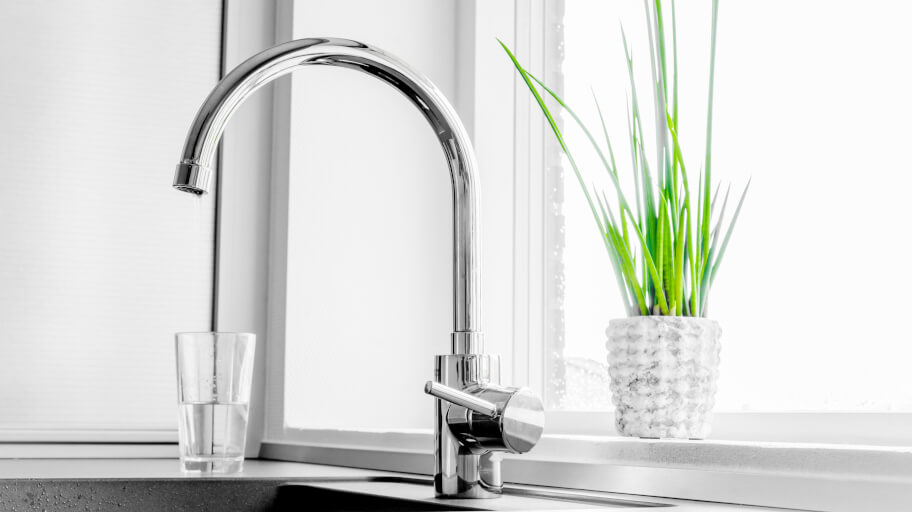 Chrome taps are surely one of the most common and preferred home parts. Chrome as a material is very durable and when properly cared for, it shines and looks good for longer. Generally, it doesn't take much to maintain clean chrome, however, there are things that one needs to know about this type of material and its requirements. For example, the tap water in some places in Australia is hard, and you may notice more limescale deposits on your faucets. Also, if not cleaned correctly or with the wrong products, chrome taps may become irreversibly damaged.
All of this being said, in this article, we're going to tell you everything there is to know about chrome tap maintenance, including the best cleaning methods, DIY solutions, what products to use and avoid, and so on.
What do you need to know when cleaning chrome?
Chrome faucets are affordable and can fit basically any home style. They are also one of the most popular options among homeowners when it comes to kitchen and bathroom taps. Although these taps are durable, their beautiful shine can be dulled easily. That being said, here is what you need to know about chrome taps:
Chrome is prone to scratches and tarnish – Chrome is a soft material and is prone to scratches and tarnish. But don't worry – your nails won't leave scratch marks, however, abrasive cleaners, such as baking soda or salt (when applied directly), scrub pads, stiff-bristled brushes, and others will definitely do.
Water and soap also leave stains – Soap scum, water spots, and limescale deposits are one of the most common stains. Good news is that they are not that hard to clean and creating some cleaning habits will minimize them. For example, you can dry the taps with a microfibre cloth every time you use them.
Rust can appear easily – With time, you can also notice rust spots developing. Here's why: chrome has a finish that is actually meant to protect the metal from rust. If damaged, the metal will become exposed to water, and next thing you know – you have rust to deal with. But don't worry, there's a way to quickly clean it – just continue reading.
How to clean chrome taps
The good news here is that cleaning chrome taps doesn't really require harsh chemicals or strenuous scrubbing. That said, make sure not to leave stains for too long, as they are easier to get rid of right after they appear.
Before we get to the how to clean chrome taps methods, here are the tools and materials that you are going to need:
Tools and materials:
A bowl
A spray bottle
A toothbrush
A dry microfiber or cotton cloth
A cleaning liquid – the most popular is white vinegar
Step 1: Get your chrome cleaner ready
As we've mentioned, one of the most widespread products for cleaning chrome taps is white vinegar. It is a natural cleanser that will also polish the chrome. Now, it may not be your favourite scent in the world, but don't worry – it will disappear as soon as you wash it away.
So, get the bowl, and heat a little white vinegar – no need to boil it, it just needs to be warm. Then make a 1:1 solution with hot water.
Of course, vinegar is not the only product you can use for cleaning chrome taps. Here are a few more recommendations:
Lemons – Sometimes life gives you lemons and you use them to clean chrome taps. Halve 2 or 3 lemons (depending on how many taps you have to clean). After that, scrub the scrome with their piths. You can let the lemon juice sit on the fixtures for a couple of minutes and then wipe away with a microfibre cloth.
Coke – The sweet drink contains phosphoric acid, which can remove limescale and rust. If you are dealing with stubborns spots, soak a piece of cloth in coke and "wash" your taps with it. Afterwards, just rinse with water and dry out with microfiber cloth.
WD-40 – You may be used to applying it on squeaky doors but the WD-40 can also help you clean your chrome fixtures. Just spray it directly on the rusty spots and scrub with a toothbrush.
Baking soda – Dissolve 3-4 tablespoons of baking soda in a small bowl of warm water. Mix very well. Apply on the tarnished chrome, and let it sit for 10-15 minutes. Wipe away with a microfibre cloth and make sure to remove all the excess moisture.
Step 2: Spray the chrome taps extensively
Now let's get back to the solution of warm vinegar and water. When you are ready, pour it in a spray bottle. This is probably the best way to clean chrome bathroom fixtures, since the vaporizer will help you put the solution on hard-to-reach areas with less effort.
Spray the chrome faucets, and let the mixture stay on for 10-15 minutes.
Step 3: Scrub from top to bottom
Use the toothbrush to scrub from top to bottom so all the dirt can fall down. It's a useful tool because it can help you spread the solution better. Also, it's hard enough to remove rust and other types of stains but soft enough not to damage the chrome.
If needed, add more solution for stubborn tarnish. After that, rinse with clean water to see the results. Re-apply if needed.
Tip: It may come as a surprise that a simple ball of aluminium foil can be the answer to your how to clean surface rust off chrome question. The interesting thing here is that aluminium will also seal the chrome and prevent future problems. A loose ball of aluminium foil dipped in little water will do the job just fine. Use it to gently rub the rusty areas. For more stubborn rust spots – dip the ball in cola. At the end, as usual, rinse and use a dry cloth to polish.
Step 4: Polish the chrome tapware
Now let's focus on how to polish chrome. This step is the last but not the least important.
Probably the best way to polish chrome is with dishwashing liquid. Dilute a few drops in distilled water, and polish the fixtures with it using a microfibre cloth. Wash away and wipe it dry. You can use this method for weekly maintenance to keep your taps shiny for longer.
How to keep your chrome taps shiny
We have more good news – if you create a habit of cleaning your faucets every time you use them, you will need the previous steps much more rarely. Here are some tips and tricks on how to maintain the good looks of your chrome taps:
Use a microfiber cloth to wipe down the water and polish the taps every time you shower or wash your hands.
Clean the taps at least once a week with a mild cleaner. A couple drops of dishwashing liquid in warm water will do a perfect job.
If using polishing paste or any other type of product, make sure that it's especially made for chrome. If not sure what product to use or you fear the chrome has already been severely damaged and nothing will work, then a cleaning by an expert could be the solution.
Use wax paper at the end. It will leave a thin layer of wax on the taps' surface, which will prevent unwanted spots for some time.
Takeaways
Chrome is a soft material, and it's prone to scratches, tarnish, and rust;
When cleaning chrome faucets, be careful not to use abrasive cleaners – they will damage the surface;
A 1:1 solution of warm water and vinegar is probably the easiest homemade cleaning solution for chrome faucets. Other hacks you can use are lemons and coke;
The best way to keep your chrome taps shiny is regular maintenance. For example, you can wipe the faucets with a microfiber cloth everytime after showering or washing your hands.
Save yourself time and nerves – leave the dirty work to the professionals!
A professional cleaner is at your disposal.