Last update: 10 months ago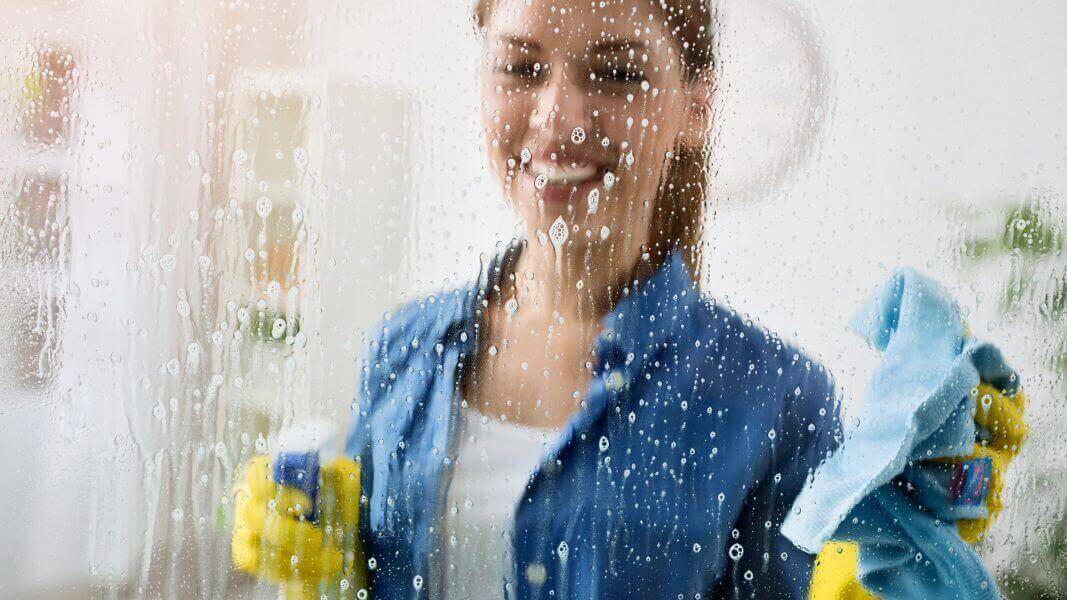 Having a clean home means that you should tend to the details. The secret to streak-free window cleaning isn't hidden inexpensive window cleaning products but in the technique used to wipe the glass surface. Some of the best window cleaning detergents are homemade! So, let's take a look at how you can shine your windows.
---
Get your window cleaning supplies
---
To achieve streak-free windows, arm yourself with the right window cleaning supplies (and a bit of practice). Here's what you'll need:
Sponge
We recommend using a sponge to dampen with soapy water the dirt and dust on the glass and window sill. Some people use brushes to clean windows, but the stiff bristles can scratch the glass, so we don't recommend using them.
Bucket
You'll need a bucket or another large container that you can fill with water and detergent. Whatever container you choose, make sure it's large enough to fit a squeegee.
Window squeegee
A window squeegee is something that even expert window cleaners are using. It's a great tool that eases the work, and when used correctly, it removes the water evenly from the glass, leaving a perfectly uniform reflection. You can use an ordinary squeegee with a rubber blade. If you have to clean high windows, you can get an extension pole for the squeegee.
Clean microfiber cloth
Instead of using rags and old t-shirts, get yourself a microfiber cloth. It's lint-free, and it will clean your windows way better than anything else.
Window cleaning detergent
The right product breaks down grease and grime and helps the squeegee glide without leaving any residue behind. Some people use dishwashing liquid, but the solution is often too sudsy, leading to streaks if used on its own. Use dish soap to pre-clean the windows. You can use commercial window cleaning products to save some time, or you make your own. Find below an example recipe.
Window cleaning detergent recipe
---
What you'll need is:
An empty spray bottle.
White vinegar
Tap water
Mix 50% white vinegar with 50% water in the spray bottle. Keep in mind that this solution will work best if you first wash your windows with soapy water. You might get streaks after you clean the glass because of the residue left by the commercial cleaning detergents.
---
How to clean your windows – Step by step
---
After gathering all of the supplies you will need and making your cleaning solution, it's time to prepare before the cleaning.
Gather your window cleaning supplies.

You'll need to gather all the supplies that you'll need. Preparing beforehand will ensure that you'll do your work faster.

Pre-clean with soapy water.

Mix water with dish soap until foam starts to form. With a sponge, thoroughly clean the windows with soapy water to remove the detergents residue left from previous cleanings. Wash in one direction, left to right or top to bottom (depending on your preference). You need to make sure that the glass of the window is thoroughly covered with soapy water.

Scrape the window.

If you need to remove sticky tape, stickers, paint, silicone or cement, you'll need to use a scraper. When using a scraper, always wash the glass first and only use the scraper on wet glass. You should scrape in one direction. Invest in brand new scrapers. The sharp edges will save you a lot of time and prevent scratches on the window.

Clean the window with detergent.

After you've removed glue residue and any stickers, it's time to clean the whole window. Start by applying detergent. Wipe the window with a sponge and make sure you are going in one direction the entire time. Go from top to bottom.

Remove excess water and detergent.

To achieve streak-free windows, grab your squeegee and remove the water from the window. Wipe the squeegee in between streaks to maintain a clean squeegee and a streak-free window. When you have the window soaking with soap water, get your squeegee and start wiping the water away from the window in one direction. We would suggest that you wipe it from top to bottom. It's also possible for you to wipe from top left to bottom right (and vice-versa). However, it would be best if you always stuck to the rule from top to bottom. If the window has started to dry, you will end up with many smears.

Buff the window.

There is nothing like a shiny window. It gives off that extra clean look in your home. The best way to achieve it is to buff it with a newspaper. Ensure that the window is dry and that the newspaper isn't contaminated with anything that might damage the glass.
---
DOs and DON'Ts of window cleaning
---
Window cleaning might sound straightforward, but often after the cleaning, you'll notice streaks, and you might wonder where exactly things went wrong. Just like with any other type of surface cleaning, knowing how to clean windows correctly can save you a ton of time. Here's what you should strive for or avoid doing!
DOs of window cleaning
Wipe excess water with a soft microfiber cloth.
Wash the window in sections. Soap, rinse and dry one area at a time. If you put soap on all windows at once, it will dry up until you get to the last section.
Use a stable ladder and apply ladder pads to avoid scratching the windows if you're cleaning windows that are too high.
Even if you think you've cleaned the window perfectly, step back and look from a different angle. You may see some streaks and smudges left.
Wash your windows in the spring. That's the best time for window cleaning. Don't wait for the hot summer days. It's harder to wash windows on a hot day as the water evaporates much faster, and you're left with a lot of streaks on your window.
Dust the blinds and clean the sunscreens before you start cleaning the windows. Otherwise, your windows will become dirty again.
DONT's of window cleaning
Don't always use a scraper. A scraper is required only when the windows have persistent marks and stains, such as sticker residue.
Don't use abrasive cleaning detergents. Abrasive cleaning detergents or tools with abrasive surfaces must not be used for window cleaning, as they may scratch the glass. If your window turns out scratched, it's hard and expensive to re-polish the glass, and sometimes it requires complete change.
Don't use a newspaper instead of a microfiber cloth. One of the biggest mistakes when cleaning a window is drying the glass with newspaper. They contain chemicals, which may damage the window and often, you can find ink smudges on the glass.
Don't use a towel. The towel leaves particles behind, which will make your window look dirty.
Don't use too much soap. The residue will attract dust, and pretty soon, your windows will look dirty again.
Don't clean your windows on hot, sunny days. The sun will dry the window very quickly, and you'll end up with marks before you get to rinse the window. The perfect time for cleaning your windows is early in the morning or at dawn.
---
Takeaways
---
Choose microfiber towels instead of old rags. They don't leave fibres on the glass.
If you have the option, use distilled water. Hard tap water has minerals and other particles which leave streaks on the glass.
Clean early in the morning or at dawn and avoid how sunny days.
Or you can just take a rest and call in professional cleaners to do that chore and many others instead of you.
Window cleaning isn't for everyone.
Luckily we've covered the land down under and can send professional window cleaners right away!
---
What tricks do you have that we missed in this article? Please share them with us in the comments below!