Last update: 2 months ago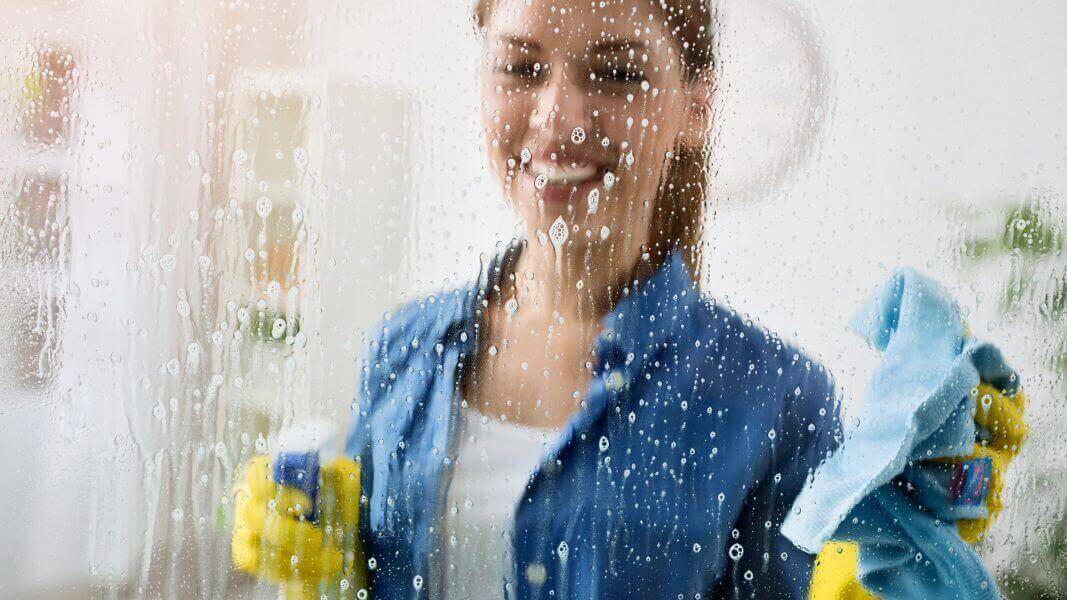 Having a clean home means that you should notice the details. Just like the eyes are a doorway to the soul, the windows are a doorway to the soul of a house. But what is the best way to clean your windows?
The secret to streak-free window cleaning isn't hidden inexpensive window cleaning products, but in the technique used to wipe the glass surface. In fact, some of the best window cleaning detergents are homemade! So, let's take a look at how you can shine your windows.
---
How to clean your windows – Step by step
---
Gather your window cleaning supplies
You'll need to gather all the supplies that you'll need. Preparing beforehand will ensure that you'll do your work faster and more correct. What you'll need to clean your windows perfectly is a sponge, bucket, window squeegee, a microfiber cloth and a cleaning detergent.
Remove any stickers from the windows
It's important to remove all stickers from the windows that you'll clean. If you can't get them off, or if there's glue residue left, you can use soapy water. Dab the sticker (or glue residue) thoroughly and leave it for 10 minutes. The soapy water will soften the glue, and both should wipe off easily.
Clean the window with the detergent
After you've removed glue residue and any stickers, it's time to clean the whole window. Start by applying detergent. Wipe the window with a sponge and make sure you are going in one direction the whole time. Go from top to bottom.
Squeegee the window
To achieve streak-free windows, grab your squeegee and remove the water from the window. Wipe the squeegee in between streaks to maintain a clean squeegee and a streak-free window.
Buff the window
There is nothing like a shiny window. It gives off that extra clean look in your home. The best way to achieve it to buff it with a newspaper. Make sure first that the window is dry and that the newspaper isn't contaminated with anything that might damage the glass.
---
Getting Your Window Cleaning Supplies
---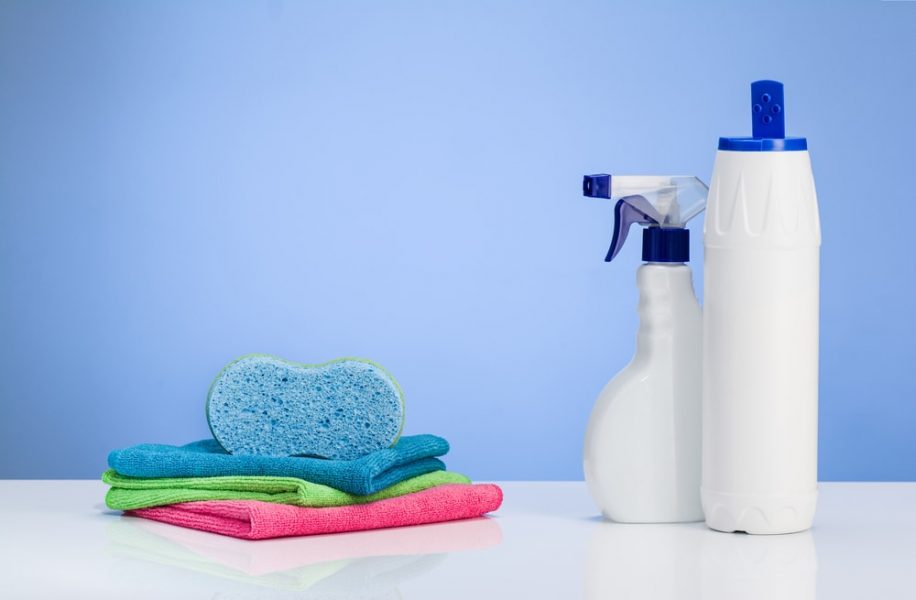 Achieving squeaky clean windows is something that requires a bit of practice. To ease your experience, you'll need to know what window cleaning supplies you will need.
It's important to remember that there is no sure way to achieve streak-free windows. However, we can give you some tips on how you can minimise streaks.
To do things as best as you can, we suggest you stock up on these supplies:
---
Sponge or Brush?
A sponge will always do you good when it comes to cleaning a home. Although it can be done with a brush too, we suggest using a sponge. Brushes with hard bristles can damage the glass.
The sponge is used to damp the glass with soapy water.
---
Bucket
It's pretty self-explanatory. You'll need a bucket that you can fill with the soapy water that you are going to use to clean the windows.
One thing that you should keep in mind: Make sure the bucket is big enough to fit the squeegee that you're going to use.
---
Window Squeegee
A window squeegee is something that expert window cleaners have been using for quite some time now. Why? Because it's a great tool that ease's the work. It's super easy to clean with a squeegee. It's fairly inexpensive. A window squeegee price is somewhere between AUD 3 to AUD 20. We suggest that you invest a bit more, as it will go a long way.
If you have high windows in your house, then get an extension pole for the window squeegee. It will save you a ton of headaches, and cleaning those high windows will be much faster.
---
Clean Microfiber Cloth
Instead of using rags and old t-shirts, get yourself a microfiber cloth. It's lint-free, and it will clean your windows way better than anything else.
---
Window Cleaning Products
Of course, you'll need a window cleaning product to wash your windows. Buying commercial detergents is the best way to save time, but it might not be the best for your health and for achieving streak-free windows. That's why there are numerous recipes that people have made and that can do even a better job of cleaning your windows.
Window Cleaning Detergent Recipe
---
What you'll need is:
An empty spray bottle.
White vinegar
Tap water
Mix 50% white vinegar with 50% tap water in the spray bottle. Keep in mind that this solution will work best if you first wash your windows with soapy water. The reason why you might get streaks after you clean the glass is that of the residue left by the commercial cleaning detergents.
---
Window Cleaning
---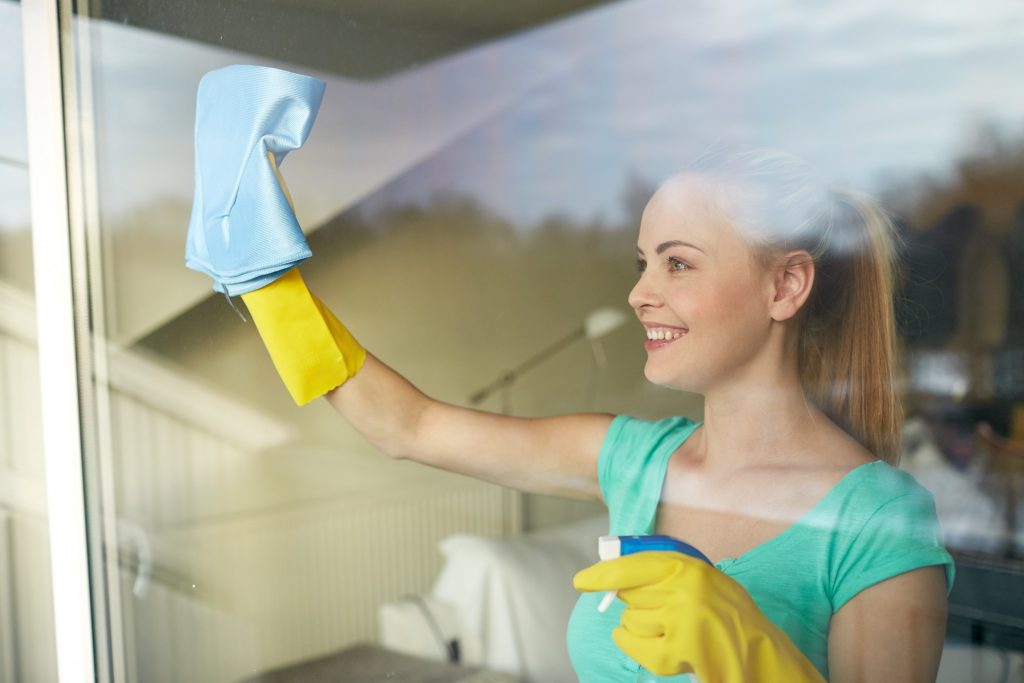 After you have gathered all of the supplies that you will need and make your cleaning solution, it's time for preparation before the cleaning.
---
Pre-Cleaning with Soapy Water
Mix water with soap until foam starts to form. With a sponge thoroughly clean the windows with soapy water to remove the detergents residue left from previous cleanings.
Wash in one direction left to right or top to bottom (this depends on what your preference is). What you need to make sure is that the glass of the window is thoroughly covered with soapy water.
---
Remove the Soapy Water With a Squeegee
Most people would go and wipe it with an old shirt or a rag. Yes, that is an option, but definitely, it's not the best one. Because most of the rags that you'll use have lint, it's best to stick with a squeegee. What we would suggest is that you use a cotton t-shirt, or a rag, to wipe the squeegee.
When you have the window soaking with soap water, get your squeegee and start wiping the water away from the window in one direction. We would suggest that you wipe it from top to bottom. It's also possible for you to wipe from top left to bottom right (and vice-versa). However, it would be best if you always stuck to the rule from top to bottom.
---
Making the Windows Shiny With Your Homemade Window Detergent
Get the spray bottle that you made your detergent in and spray it on the already wiped window. With a microfiber cloth clean the windows until they are shiny. Once again, it would be best if you did it in the same direction.
If you want to make your windows even shinier, grab an old newspaper and give your window a nice shine. This will buff your windows, making them movie-like!
---
Share your tips with us!
What tricks do you have that we missed in this article? Please share them with us in the comments below!