Last update: 4 months ago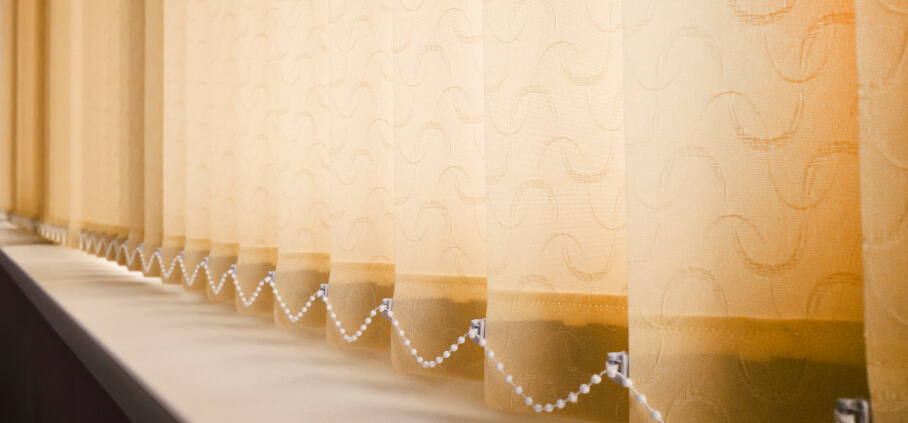 Like everything in your home, blinds need regular cleaning too. Whether you have horizontal or vertical ones, you should make sure they are always up to their cleanest condition. Vertical blinds are found in most homes because they offer more elegance and design versatility than horizontal ones. They are functional, stylish and convenient way to cover large windows and glass doors.
Vertical blinds are mostly made from fabric and vinyl. In this post, we talk about how to safely dust and clean both materials. Keep in mind that cleaning vertical blinds that are fabric requires more attention. So without further ado, learn how to clean vertical blinds the easy way.
Cleaning fabric vertical blinds
Have you ever wondered what's the best way of cleaning your blinds? As a general rule, it's recommended that you regularly vacuum your fabric vertical blinds. By doing so, you will minimise the need for cleaning them with water and soap, unless there are some smears and stains that need to be taken care of.
Vacuuming your fabric vertical blinds
Vacuuming fabric blinds is simple and can be done without removing the blinds. Support each blind with one hand from behind and run the brush attachment on your vacuum cleaner from top to bottom on each side. You can also use a duster if you have one.
Even if the whole process doesn't sound very difficult, you should keep several things in mind so you don't damage your blinds:
It can brighten up any room's interior decor.
Provides comfort to your feet thanks to its fluffy material.
A shag rug will keep you warm when temperatures drop.
When made from natural materials, these types of rugs can last for years.
Wiping the blinds
If you only need to do a gentle wiping, you don't have to take down the blinds. Instead, get a ladder or a stable chair so you can reach the top of them.
You will also need:
A duster;
Warm water (no more than 30 degrees Celsius);
Mild dish soap;
A microfibre cloth;
Here is how to proceed:
Soak the microfibre cloth in warm water mixed with dish soap.
Squeeze the cloth until it's almost dry and then wipe each blind from top to bottom.
Do this side by side, or simply wrap the blind with the cloth and use both hands to simultaneously clean both sides of the fabric.
Cleaning vinyl vertical blinds
Cleaning vertical vinyl blinds is no harder than cleaning fabric ones. You can clean them while they hang, or you can take them down. You need to be careful, however, not to pull them too harshly from their clips, because you may break them.
What you need for the cleaning:
Warm water;
Mild dish soap;
A microfibre cloth;
A vacuum cleaner with a brush end.
To remove dust from vinyl vertical blinds, use the brush attachment on your vacuum cleaner and gently go from end to end with it. The other way is to soak the microfibre cloth in warm water and wipe the blinds.
Vinyl isn't a porous material so dust comes right off with little to no effort. Even stains from accidental spillage or whatever they may be would come off easily. With a little bit of elbow grease from your side, stubborn and nasty stains can be quickly eliminated.
We may even say that cleaning vinyl blinds is easier than fabric ones. There are fewer things to consider so you shouldn't worry that anything will go wrong in the process.
Do not use an abrasive product to clean vinyl blinds. It may scratch them and destroy their fine and smooth layer.
Additional tips for cleaning vertical blinds:
Place a towel under the blinds to collect any drips.
Close windows and doors that lead to the outside so that no dust comes in the room while you're cleaning or drying the vines.
Try not to use sponges and cloths that are too wet. Wring them as much as you can.
Always make sure they are clean and unused. Especially if you're cleaning fabric blinds.
If you can change the power setting of your vacuum cleaner, use a low one so it doesn't suck the fabric and crimple it.
Spot-cleaning your blinds
This is usually rare but it happens. It's easier to spot-clean vinyl blinds than fabric ones, but don't worry as both types can be washed. Again you'll need warm water, dish soap and a microfibre cloth.
To remove spots from vinyl vines, first, wipe the entire area. Then using the microfibre cloth and soap, rubdown the spot. Since vinyl isn't porous, the spot should come off easily and no residue from it or the water will remain.
But to spot-clean fabric vines, you shouldn't rub the spot, only dab it. Use soap, water and a microfibre cloth or a sponge to dab the spot. When you think it's done, wash the soap with another clean wet cloth. Again, only blot the spot.
Leave the fabric vines to air dry or use a blow dryer on low heat to speed up the process.
How often should you clean your blinds?
Well, dusting them once every few months and one annual thorough cleaning should be enough for both materials – vinyl and fabric.
However, you also have to consider where the blinds are located. For example, blinds that are in your kitchen where various smells are constantly present may require more frequent cleaning than the ones in a low-traffic area.
It also matters if you have pets, children, or someone in your household is highly allergic to dust. In such cases, you may want to clean them thoroughly a few times per year.
Takeaways
Always use a clean sponge or cloth to wipe down your blinds.
Regularly dust your vertical blinds.
Do not use harsh cleaning products.
Do not use abrasive products.
Do not use hard brushes or sponges on vinyl or fabric vines.
Do not soak fabric vines, but vinyl ones are safe to soak.
Do not hang heavily wet fabric vines.
Do not pull vinyl vines from their clips because you could break them.
Does cleaning your vertical blinds sound too boring or complicated?
Hire a professional cleaning team!