Last update: 8 months ago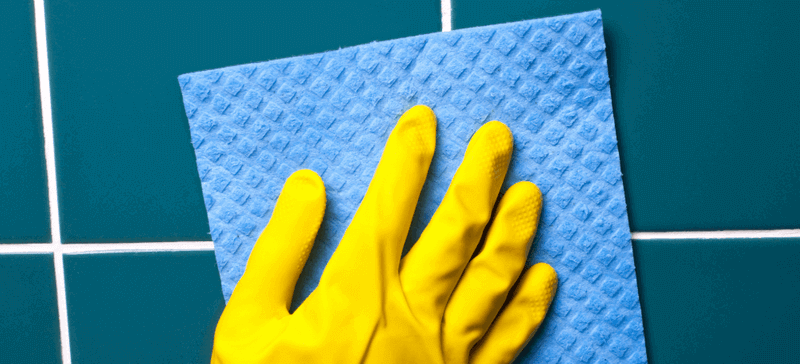 Everyone loves spotless white grout. But the reality is that grout often stays that way, and often times you need to put a bit of elbow grease in order to clean it.  Given that most homes suffer from grimy tile grout, we felt compelled to give you an insight into how professionals clean dirty grout.
---
 What is Grout? 
---
Most homeowners understand that it's okay for grout to stain. You can't do much about it. Soap scum, mildew, mould and spills are among the top grout stainers.
Simply put, grout is a fluid form of concrete, that has it's best use in filling gaps. In our homes, grout is mostly found between tiles sealing the gaps. There is a big chance that either your bathroom, shower, kitchen or toilet has tiling. Or all of them.
Grout is a porous substance, and as such soap scum and other pollutants easily find a way to embed themselves in the surface of the grout. Kitchen tiles often suffer from grout stains because of spills.
Cleaning grout is never easy, and there are a lot of different ways that you can try before you find one that works for you.
---
 Ways to Protect Grout
---
Given that every homeowner wants to clean grout as less as possible, there aren't many ways you can protect it from getting stained.
The best way to seal grout is to use a latex penetrating grout sealer. They are pretty inexpensive as you can get them for around AUD$12. Most times with normal use in the bathroom you'll want to re-seal the grout once a year. In the kitchen, you can go for as long as a year and a half to two years depending on how often you cook and use the tiled area.
Follow the instructions included with the product for best results. Many times you'll have to put a bit of elbow grease in order to clean the grout first, and then seal it.
Of course, practical habits will also help with keeping grout clean. What we suggest is to always mop water from tiles, and never leave it to evaporate on its own. It's best to leave a window open, or a fan operating after showering in order to suck the moisture of the room. If not done, you may soonely find mold and mildew forming in your bathroom.
---
 How to Clean Grout
---
While it may be very unpleasant, cleaning grout isn't that tricky. Takes a lot of scrubbing and wiping before it comes off. However, a good method may still save you a bit of time and labour.
It all boils down to choosing the right way to clean grout, and the grout cleaning product to use.
 Commercial Grout Cleaner
If you want to save yourself time from preparing grout cleaning solution, we would suggest that you use a commercial grout cleaner. They are a bit more expensive and sold in larger quantities, however, it is guaranteed you'll restore your grout to white.
The best thing is that you will have a grout cleaner for months ahead. We would suggest that you use a commercial grout cleaner if you are just moving into a property. That way you will clean the tiled areas as best as possible. Or you can skip on that, and let the professionals do all the cleaning for you.
 Homemade Green Grout Cleaners
DIY grout cleaners are pretty common. They are easy to make and do a fairly good job at cleaning grout stains, as long as you make them the right way. 
The problem with homemade grout cleaning solution is that you will have to play around with different formulas until you find the one that works for you. Most of them are quite abrasive as well, which means that they will strip off a layer of grout with every cleaning. In time you will have to re-grout the tiled area.
 Baking Soda & Vinegar Grout Cleaner
It may be the most commonly made grout cleaning solution, and it does clean mild staining. Here's what you'll need to make the solution:
Baking Soda

Vinegar

Spray Bottle

Grout Brush (or a Toothbrush)

Hydrogen Peroxide (Optional)
How to Clean:
The first step of cleaning grout with baking soda & vinegar solution is to make the solution. Mix 1:1 water and vinegar in the spray bottle. Spray the grout and leave it to sit for about five to ten minutes.
After the time has passed you should rinse the grout with warm water. Then you should prepare a baking soda paste by mixing it with water. The paste is then used to scrub off any leftover stains, so here's where the elbow grease part comes.
Apply the paste on the grout and use the brush of choice to clean the dirt buildup. A lot of scrubbing will be needed so prepare mentally.
This method is good for maintaining professionally cleaned grout, so we suggest that you try this one first.
 Homemade Bleach Grout Cleaner
There are two types of bleach that could help you with getting rid of the icky looking grout in your home.
Chlorine Bleach
Using chlorine bleach to clean the space between the tiles isn't uncommon. Frequently done by dabbing a brush in a small container of bleach, scrubbing and then rinsing, it's a good method. It gets the mildew and stains out of the grout, However, chlorine bleach is toxic so it's important to take precautions. We suggest that you use a respirator and always clean with bleach in a room that is well ventilated.
This should also be considered a last resort cleaning method, as bleach can and will damage the grout.
Pro tip: If you are going to clean with bleach, we suggest that you don't do it in your favourite clothes and wear protective gear such as gloves, breathing respirator and goggles. Never use products containing ammonia together with bleach.
---
Alkaline Detergents for Grout Cleaning
---
If the staining isn't too severe then maybe you would want to try easy-to-find detergents that are alkaline. In short, this is any widely sold cleaning detergent that has a pH greater than 7 on the pH scale.
Depending on where you reside different brands will offer alkaline cleaners. It's the easiest way to clean grout, however, depending on the amount of staining you may need a stronger solution to get that sparkling white look back.
Maintaining a grout spotless isn't an easy task. It's best if you don't let things get out of control by regularly cleaning it. If you are just moving in, and the things are way worse than you expected, we would suggest that you get the help of a professional, as this may be the only way to get your grout looking sparkling white again.
---