Last update: 8 months ago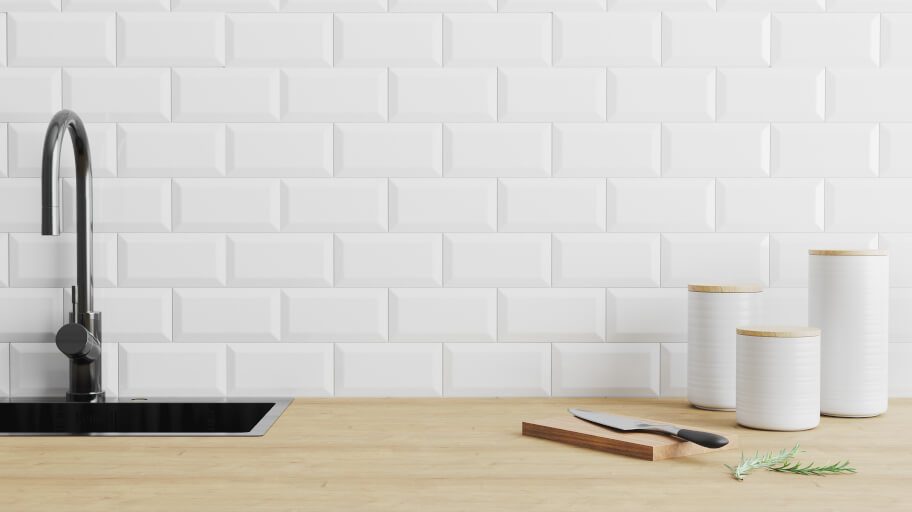 Kitchens are often seen as the hearth of the home, where delightful smells of freshly baked cookies and favourite meals linger in the air. While on the topic of cooking, kitchen tiles are an easy target for grease splatters, sauce spills, and general debris. Needless to say, the mess left behind after a kitchen adventure can overshadow the joy of preparing a meal for your family. To ensure a pleasant time spent in the kitchen, it is important to know how to clean your workspace.
Generally, tiles are easy to clean, very durable, and a convenient option for kitchens. Thanks to these characteristics, many homeowners in Australia choose them for their properties. Still, be honest and raise your hand if you have ever wondered how to clean kitchen tiles quickly, easily, and efficiently.
In this article, we are going to share with you helpful tips on how to achieve that.
Keep reading to find out how to get squeaky-clean tiles fast!
How to clean kitchen wall tiles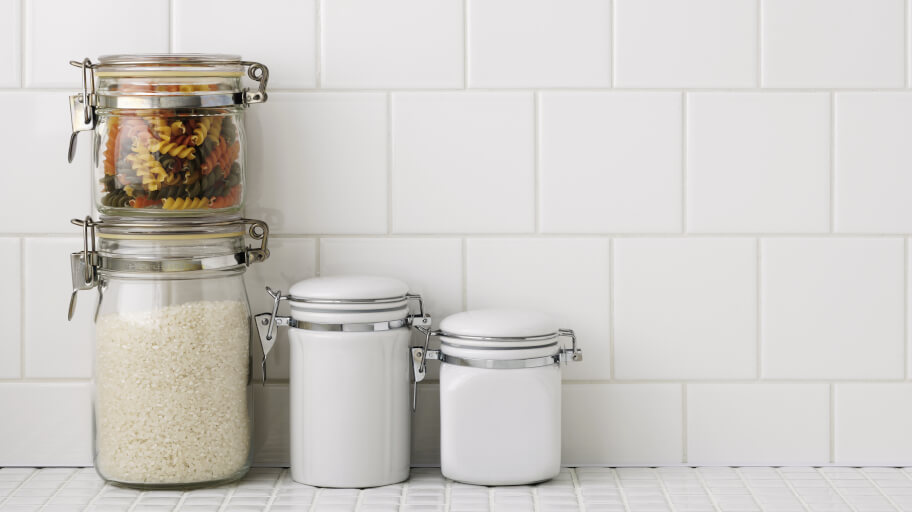 Is it time to give your kitchen wall tiles a nice, thorough clean but you don't know how? That's fine – we are here for you!
Kitchen wall tiles can become very filthy with time due to cooking fumes. Tiled splashbacks, especially, suffer the most and sometimes require some extra elbow grease. Moreover, when you have tiles, you don't need to think only about the tiles themselves, but also of the grout.
Remember: If your tiles are plain ceramic or porcelain, it is safe to use a scourer pad. However, if you have marble, textured, or patterned tiles, we advise that you use a soft, microfiber cloth.
Method 1. Baking soda and vinegar
The magical cleaning properties of baking soda and white vinegar are widely known. A huge benefit of this method is that it uses all-natural products that can also be easily found in your kitchen cupboard. Here is what you need to do to achieve shining kitchen wall tiles:
Sprinkle baking soda over a damp sponge or cleaning cloth, and wipe the surface, scrubbing when needed. Be careful, however, as baking soda is abrasive. You will need to scrub gently to avoid scratching the tiles.
Pour some vinegar in an empty spray bottle and apply it on the tiles.
Let the vinegar and baking soda sit for about 10 minutes.
Wipe the surface clean with warm water and a cloth.
Warning: Avoid applying vinegar on marble, granite, or natural stone tiles. This can cause unwanted effects, such as the appearance of dull, white marks.
Method 2. Tile cleaner
There are many tile cleaning products available on the market. They are easy to find and effective, however, they contain chemicals, so make sure your room is well-ventilated when working with them. Always follow the manufacturer's instructions. If it's possible, choose a tile cleaner that is not very harsh and comes in a spray bottle for easier application.
Spray the wall tiles but be careful to not overdo it.
Let the solution sit on the wall tiles for about 10-15 minutes or as instructed by the manufacturer. When dealing with tile watermarks on the area near the sink, there is no need to wait. You can simply spray the tiles and then wipe them clean.
Use warm water and a clean cloth to wipe away the cleaning solution from the kitchen tiles.
How to clean kitchen floor tiles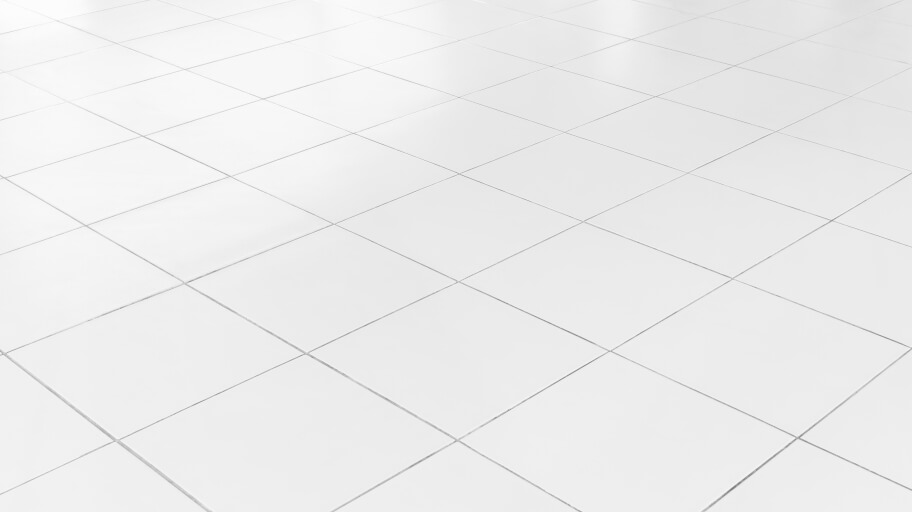 Cleaning kitchen floor tiles isn't much different from cleaning wall tiles. In fact, it's actually easier. Here are 4 easy steps on how to clean kitchen floor tiles:
Vacuum the floor to get rid of any debris and dirt.
Clean the grout using one of the above-mentioned methods. Again, you can choose either vinegar and baking soda or bleach.
Apply a cleaning solution suitable for your type of floor tiles. For most floor tiles, it is safe to use the vinegar and baking soda method or a simple commercial floor cleaner.
However, for natural stone tiles, avoid vinegar and traditional cleaners that contain chemicals – they will do more harm than good. Instead, mop the floor with warm water and a specialised floor cleaner for natural stone. Always follow the instructions on the label.
Rinse off with clean water and dry with a soft cloth to avoid water marks.
Pro tip: Use a chamois mop to clean your floor. A regular sponge mop will only push the dirt into the grout.
How to clean grout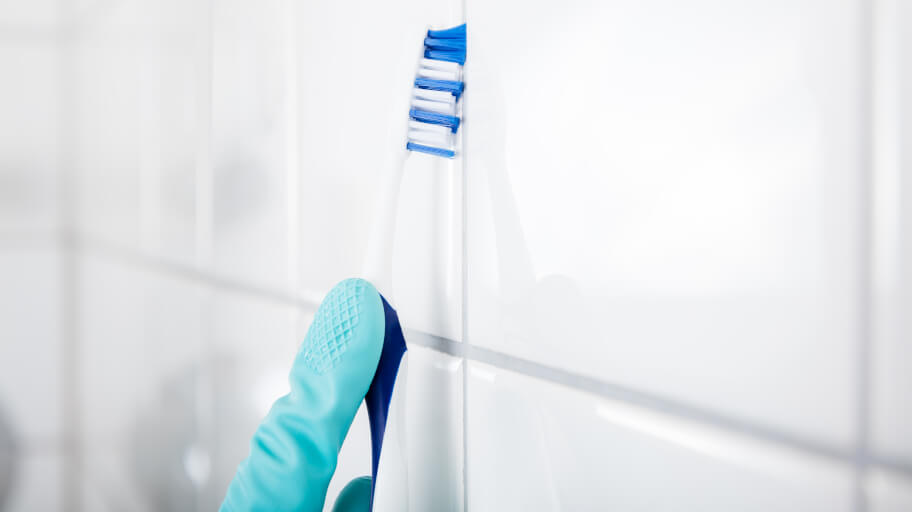 The first step of cleaning tiles is to clean the grout between them. You can do that by either using a homemade paste from vinegar and baking soda or, if you have grout in a really bad shape, by applying bleach.
To create the natural cleaning paste, mix white vinegar and baking soda. Grab an old toothbrush, apply the paste, and start scrubbing the grout. Make sure to go over all of the wall tile gaps. Leave the solution to sit for about 20-30 minutes. After that, remove the paste with warm water and a clean cloth.
If you've decided on the bleach method, we advise you to use oxygen bleach because it is less harmful to the environment. When using bleach, you will need to put on safety gear, such as gloves and a mask. Apply a small amount of bleach, and scrub the grout with a toothbrush. Leave it for 10-15 minutes, then rinse off thoughtfully to remove any excess product.
Once the grout has been cleaned, it is finally time to turn your attention to the wall tiles. Depending on the condition of your kitchen wall tiles, choose one of the below-mentioned methods.
Maintaining the kitchen clean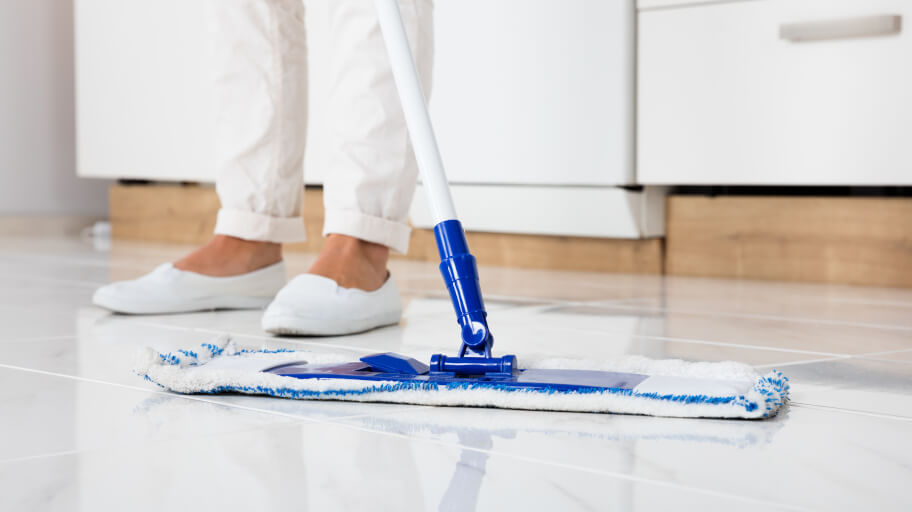 Regular maintenance is of huge importance if you want to make your job easier in the future. To prolong the fresh look of your kitchen tiles, try developing some cleaning habits that, although simple, will make a huge difference. Here are some examples that are worth trying:
Vacuum regularly. Tile grout is porous, which means that tiny food particles can get stuck in it.
Clean food and liquid spillages. Do it as soon as possible to avoid staining.
Wipe your kitchen tiles regularly using a damp cloth. For best results, wipe with warm, soapy water.
However, we know that regular maintenance, in reality, is hard to achieve. Sometimes we simply don't have the time. But that is what professional cleaners are for. After all – a neglected kitchen is never an option. Book an expert cleaner today and make your job easier. Fantastic Services offers tile and grout cleaning services, designed to leave your tiles germ-free, while improving the overall look of your kitchen.
Do you need a helping hand?
Hire a professional cleaning team!
Takeaways
Grout cleaning is an important part of kitchen tile maintenance and shouldn't be overlooked;
You can use a natural solution made from vinegar and baking soda to break down grease stains;
For natural stone tiles, use a specialised cleaning detergent and never vinegar;
Seek professional help with your tile cleaning if there are stubborn stains and spots.