Last update: 4 months ago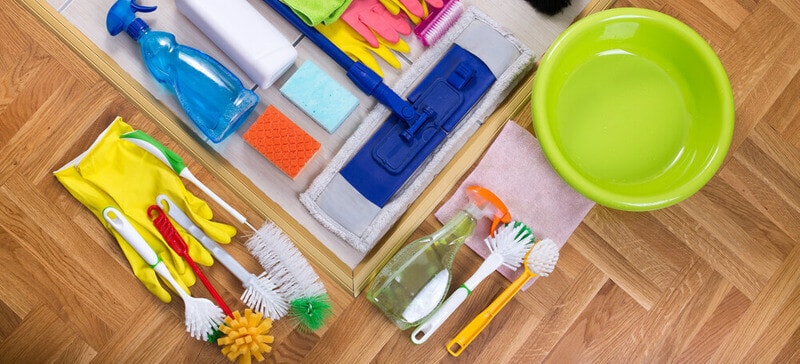 Whether you're moving to a new home or you just want to know if your cleaning kit is complete, here are the essential cleaning tools and equipment that every homeowner should have at the ready. These basic cleaning items can be used in a variety of ways – for maintenance cleaning or deep cleaning. You can start off with a small number of tools, most of which usually come at an affordable price, and gradually fill in the missing ones. With time, you'll find what works the best for you.
Have a look at what we at Fantastic Cleaners Australia recommend.
---
Tools
Gloves
Cleaning gloves are a must-have for every homeowner, but especially for the ones with more sensitive skin. Protect your hands from germs and the chemicals you use to kill them. Don't be shy to use gloves even when you wash the dishes. The skin on your hands will be thankful.
Sponge and sponge cloth
No cleaning tools list would be complete without a sponge. There are all kinds of varieties – some softer, some more abrasive. Choose one that suits your needs and have in mind what types of surfaces you'll be cleaning with it. You don't want to scratch the surface of your appliances, but you also can't spend too much time trying to clean a hardened stain with a soft sponge. Sponge cloths are best for quick wiping of surfaces and at cleaning up spills.
Bucket
Get a bucket that's comfortable to carry around. Keep in mind that buckets from low-quality plastic break easily, and you might find yourself in a situation where the bucket is either leaking or breaks under the weight of the water. You can use the bucket as a storage place for detergents, gloves, sponges and other tools. It's going to organise your space and ease the cleaning process.
Squeegee
Squeegees are an essential tool for window cleaning, but you can also use them on any tiled surface. Keep a squeegee in the bathroom and use it after every shower to dry the walls, mirrors and shower glass to speed up the drying process. Having your bathroom moisture-free is the best way to prevent mould growth.
Microfiber cloths
Microfiber cloths are absorbent and trap the dust inside them. They're also soft and won't damage the surfaces you wipe with them. Microfiber cloths are especially great for cleaning appliances as they prevent static electricity build-up that causes attracts dust. You can use them for general dusting as they require minimal amounts of water or none at all. In addition, you can wash and reuse them many times before you need to change them.
Lambswool duster
If you want to have a separate tool for dusting, you can get a lambswool duster. This tool is perfect for regular dusting and makes it effortless. The long wool fibres of this tool attract dust particles, and the handle gives you a longer reach.
Spray bottle
Spray bottles are indispensable and especially useful if you make your own detergents. However, even if you buy your detergents, you can opt-in for a powerful concentrate, dilute it in the spray bottle, and use it this way.
Scrubbing brush
Sometimes you need to force the stain out of the surface. Cloths and sponges, while gentle to the latter, are insufficient to banish some stains.
Toothbrush
Sometimes you need to clean tiny cracks and crannies. This is where a toothbrush becomes quite useful. Disinfect an old toothbrush and keep it in your cleaning supplies basket. It can make a difference in how easy it is to clean grout.
Dry Mop
Dry mops are used for dry cleaning like sweeping dust and gathering pet hair. There are different types of dry mops. Use small disposable mops can easily fit in hard to reach spaces, but we don't recommend them as they don't do a good job and can be flimsy.
Use a microfiber mop as it does a better job cleaning and t's cheaper in the long term. In addition, you can wash and reuse the dry-mop pad many times.
When buying your dry mop, pay close attention to the handle and hinges, as these are the areas of most stress. Choose metal over plastic handles.
Wet Mop
Wet mops are used for wet cleaning and wiping out spills. We discourage the use of string mops. They are relatively hard to clean with and rarely rinse out properly.
Look for mops with interchangeable covers, a wide head and a swivel base. They are best because you can use them for both dry and wet cleaning. Use a dry cover to soak up spilt liquids, and use the other one with detergent to finish the clean. When the cover gets too dirty, just change it with a new one! Terry cloth mop covers are reusable and can be machine washed, so they'll last you a long time.
Sponge mops are a good option for wiping up spills and general wet cleaning. However, especially if you find yourself one with a larger head, since these are designed for scrubbing and often feature self rinsing mechanisms, make sure they are built sturdily—especially the mechanism itself. A metal one is sure to last you more than the cheaper plastic alternative.
Natural fibre broom
Organic brooms are the apex predator of sweeping. Their design hasn't changed in decades, and they are still pretty much the best all-purpose solution. Their rough bristles will do wonders for floors with a rough surface such as concrete. When buying one, always look for multiple lines of stitching. This is the hallmark of a durable broom. Just as the synthetic brooms, it's best to store them with heads up. As the broom ages and the bristles become worn, you can trim it 1-2cm to restore it to perfect working order.
Synthetic broom
Synthetic brooms are light and easy to use. They do a wonderful job of smooth surfaces. They are impractical for outdoors, however, since the bristles are often too soft. Always store your synthetic brooms with the bristles up, or they will get bent.
Push broom
For cleaning outside, better get a push broom. They are most often made with synthetic bristles arranged in a wide base. Push brooms shine when dealing with large areas. Thanks to the coarse bristles, they take care of irregular surfaces like asphalt and decking effortlessly. When choosing a push broom, make sure the bristles are glued and tacked together and fastened to the base with metal. Plastic fittings will quickly get worn down.
---
Equipment
Vacuum cleaner
What would we do without a good reliable vacuum cleaner? It's possibly one of the best investments you can make for your home. And there's a good chance that the more you invest in it, the longer it'll serve you. But any vacuum cleaner is better than none. Because no matter how good you are with sweeping, even the weakest vacuum cleaner can do it faster and better.
Robotic vacuum cleaner
It seems like an extra to some, but the robotic vacuum cleaner is a godsend for pet owners. Don't let all the dog and cat hair won't accumulate. Program it while you're away at work or running errands, and The robotic vacuum cleaner is slow and relatively quiet, so pets won't mind it as much while it's doing its job. While it sounds as it's too good to be true, it kind of is. Robotic vacuum cleaners get the job done, but never as well as a regular vacuum cleaner can.
Steam mop
If you have to clean tiled floors and even walls, a steam mop will definitely come in handy. They come with washable pads and are said to sterilise surfaces, which is why they're preferred for parents and pet owners. Another bonus is you can use a steam mop without detergents.
Takeaways
You can start with a few cleaning tools and expand your list later.
You don't have to spend much money on any of the cleaning tools.
With time, you can invest in extra equipment like a robotic vacuum cleaner or a steam mop.
---
Do you need a helping hand?
Hire a professional cleaning team!