Last update: 4 months ago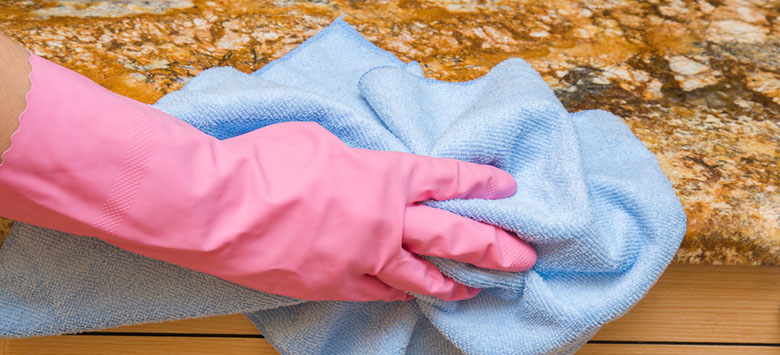 Marble is a stunning natural stone. It's a number one choice for an Instagram-like look for your living space. Marble gives classic stamps of the decor and creates the impression of glamour and luxury. The stone can be used for flooring, countertops, splashbacks, tables and chairs and even walls. It's fantastic for kitchens and bathrooms. Each piece of marble is unique as the stone is formed through a natural process over millions of years.
Marble is a wonderful but also a pricey investment, which is why you must give it proper care from day one. How to do that and extend the lifespan of your marble tile floor, countertop or another piece you can discover below!
What is marble made of?
Marble is a metamorphic rock composed from the metamorphism of limestone or dolomite rocks under the influences of heat and pressure. This results in the forming of a mosaic and crystals within the rock, forming beautiful forms. Marble can contain materials such as quartz, pyrite, graphite, micas and clay minerals. The rock can be found in various colours – from white or beige to blue, pink, red, green, black and even gold.
Marble is a porous material, which makes it more susceptible to staining and scratching. Keep this in mind, as these specifics need to be considered when choosing a cleaning agent for your marble benchtop in the kitchen or marble bathroom tiles.
Do's and don'ts of marble cleaning
The key to reserving the fabulous look of the marble over the years is care and prevention. Marble should be regularly polished and sealed over the years to keep its bright looks. Here's what you should and should not do when cleaning and polishing your marble table, tiles, etc.
Do's of marble cleaning
Do clean marble regularly with water and soap
For regular cleaning use a soft cloth and clean with a mixture of hot water and dishwasher soap. Wipe up with a damp cloth or sponge afterwards to dry out the surfaces.
Do invest in a marble cleaner
If your budget allows it, it's highly recommended to buy a professional marble cleaner to be as safe as possible. Marble is vulnerable to acids and alkalis, so better be safe and invest in a quality product specially created to clean this gorgeous stone.
Do clean spills as soon as they happen
Marble is a very sensitive type of rock so clean spills as soon as they happen. Acid can be found in food and drinks such as coffee, wine, alcohol, tomatoes, citrus fruits, meat, yoghurt, vinegar etc. And as you may already know, acid is destructive to marble.
Do use cutting boards and plates on countertops
If you decide to use marble for your countertops, it's almost impossible to completely prevent scratches. However, using cutting boards can significantly lower the risk. Using heat pads under hot pans, and coasters under bottles and glasses is also recommended.
Do use trays in bathrooms
Protect the marble tiles from your toiletry products by not placing them straight onto the surface. Use trays to prevent contact with chemicals that a big percent of today's toiletries contain. A tray will also look nice and neat and it's a great way to decorate the bathroom.
Do use doormats and rugs
Place a doormat at the front door to prevent tracking sand and dirt inside and onto the marble floor. Put carpets under moving furniture like chairs and tables and on all high-traffic areas.
Do mop the marble floor regularly
Clean the floor regularly to remove dust and dirt. You can also use a vacuum cleaner, but be careful. Don't press it too hard to avoid scratching.
Don'ts of marble cleaning
Don't use general all-purpose cleaners
Marble is soft and cracky which means it can easily be damaged by stains and spills. Cleaning marble surfaces the right way is important for its appearance. All-purpose natural cleaners and vinegar must be avoided. Their acidity will damage the soft surface of the stone. Alkaline cleaners like bleach must also be avoided.
Don't use scrubbing sponges
The surface of the stone is really soft and trying to remove a hard stain with scrubbing sponges or with dishwashing stainless steel scrubbers can seriously damage the surface.
Don't leave the marble surface wet
As mentioned before, marble is pourous, which means it can absorb liquids quickly. If you don't dry marble after mopping, washing or spilling something, the surface will absorb it and this could result in damage.
Don't stand or sit on marble countertops
Marble countertops are not as strong as other materials and sitting on them can damage them. Needless to say, it's also dangerous for you because the surface is slick, which might cause you to slip or fall.
Don't put sharp-edged items on marble
Use mats and trays on marble countertops to protect them from glasses and heavy objects with sharp edges. If you have marble floors use carpets or mats under chairs and tables. As we mentioned above, marble can easily get scraped and torn.
How to remove stains from marble
No matter how careful you are, accidents happen. Stains can happen while you're not at home, or you may miss tending to them right away. In this line of thought, here are some safe stain treatment methods that can be applied on both old or newly installed natural stones, which can help restore even a badly stained marble.
Simple cleaning with water
If you come home to a dry stain on the marble countertop, try to remove it with plain water before moving to harder detergents. Spray the spot with water. Leave it on for a couple of seconds to soften the stain. Scrub gently with a dry cloth until the spot is completely removed.
Use baking soda
If you can't remove the stain with water, add baking soda to create a mixture. In a small ball, mix baking soda with a couple of drops of water until you make a paste. The baking soda will disinfect and deodorise the surface. You can also add dish soap to the paste.
Apply the mixture evenly over the stain without pressing too hard or trying to scrub. After all, baking soda is an abrasive cleaner and needs to be used with care. Cover the area with plastic wrap and let it rest for twenty-four hours. After that, remove the plastic cover and use a damp cloth to wipe away the stain. If some parts of the stain are not cleaned, repeat the process until it's completely removed.
Use hydrogen peroxide
You can use hydrogen peroxide for stubborn stains. Pour a little peroxide over the stain. Cover it with plastic wrap and again, leave it for twenty-four hours. After that, remove the plastic wrap and wipe out the liquid with a dry cloth.
Important: If your marble is dark coloured avoid using this method, as hydrogen peroxide can bleed the marble.
Cornstarch for greasy spots
If there is a grease stain on the marble, sprinkle cornstarch until it completely covers the stain. The cornstarch will absorb any oil from the stain. Leave the powder for 30 minutes and wipe away with a dry cloth.
Tricks to remove scratches from marble
Continuing with the marble cleaning tips, we cannot miss providing solutions for the other most common marble problem – the scratches. We start with the easiest and move to the more complex solution, but don't worry, you can certainly do them all.
General cleaning to remove scratches
If there are small marks on the surfaces, try using gentle washing to remove them. Use hot water and a soft cloth. Pour the water over the scratch and rub smoothly. Shallow scratches should be rubbed away with this method. You can add dish soap to the hot water to generate more friction. After you finish scrubbing, wipe away the surface with a dry cloth.
Use fine-grain sandpaper
For deeper scratches, use fine-grain sandpaper and rub the area lightly. Avoid using rough-grain sandpaper, as it can create more cuts in the marble.
Use marble polishing powder
Wet the surface with water, and apply the creamy powder over the damaged area. When you're done, rub it away with circular motions using a wet cloth. Scrub until the scratch goes away.
Types of marble and how to best care for them
Marble is unique and comes in a wide range of colours and patterns. That's what makes it the perfect choice to complement the interior of your home.
We picked up the most popular types of marble in different colours and provided a few specifics you need to know about, plus some cleaning and maintenance tips to follow. Here are our favourite marble options:
Carrara Marble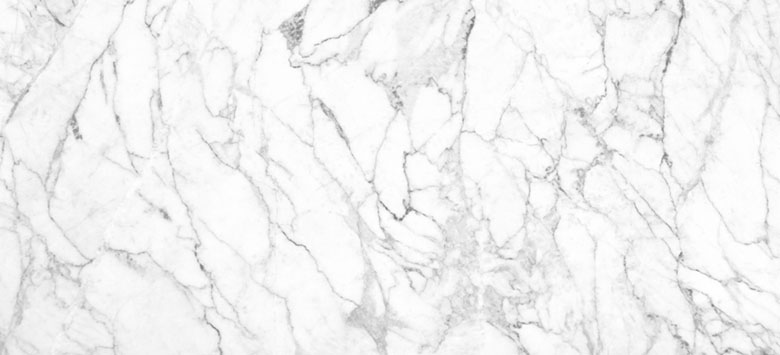 Carrara marble comes from Italy, and it's a popular and affordable choice when it comes to marble. You can find it in a variety of shades of white and grey. Incorporating it into your design will open the space and bring more light to it. It's perfect for indoor spaces and mainly for kitchens and bathrooms. As Carrara marble is usually white-coloured, it can get stained easily. This is why it's important to be cleaned regularly and could be treated with some of the previously mentioned products, such as baking soda and hydrogen peroxide. Although the agents have bleaching properties, this should not be a problem with this type of marble as it is light in colour.
Crema Marfil Marble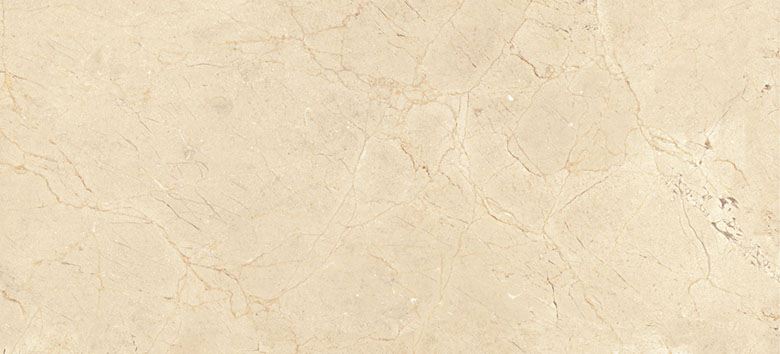 This type of marble comes from Spain, and it comes in natural beige colours. The Crema Marfil is a unique stone, and it's an excellent choice for furniture and sinks. You can perfectly combine it with other materials and different types of marble. It provides an elegant look to your home, and it's straightforward to maintain because of its strong natural texture. It is often used in outdoor spaces, as well. However, keep in mind that stains can be easily visible because of the marble's colour, so perhaps it will not be the best choice for kitchens or bathrooms.
Nero Marquina Marble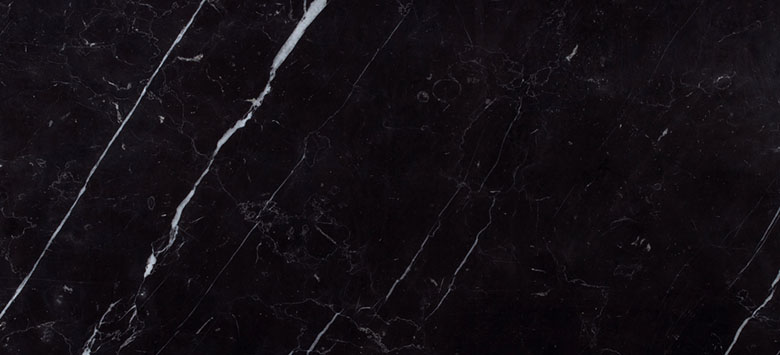 This kind of marble is in deep black with contrasting white veins throughout its surface. The stone is harvested from Basque Country in the North of Spain. As black is the most common colour associated with luxury and elegance, most people often choose it in interior design. The Nero Marquina marble is not recommended to use outdoors. The heat and sun can easily damage it because of its natural dark colour. The black beauty (as it's also described) is quite a strong material. It's the perfect choice for floors and countertops because it cannot be broken easily. The Marquina marble is also easy to maintain – dust it regularly and clean spills as soon as they happen. Be careful with bleaching agent's, though, because of the dark colour.
Rojo Alicante Marble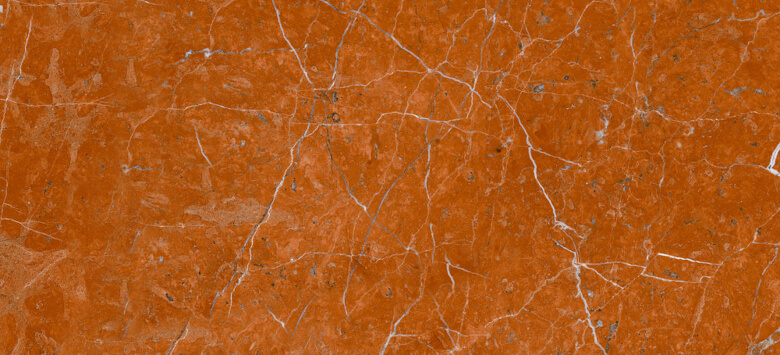 Rojo Alicante marble, also from Spain, comes in rich red colours with white or grey veins. This stone in stunning colours is perfect if you want to add dramatic or sensual tones to your home. This type of marble is very resistant to weather conditions, so it's also perfect for outdoor spaces. It can be glossy or matt – either way, it's easy to clean and maintain.
Dark Emperador Marble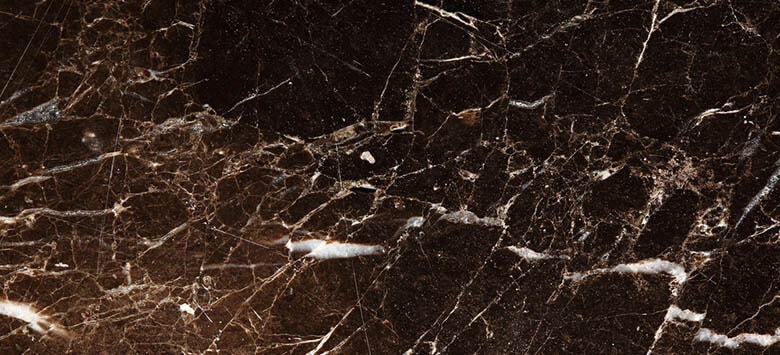 Dark Emperador is brown coloured marble with golden veins inside the surface. This beautifully coloured stone is elegant, and it can be the perfect choice for living rooms or other high-traffic areas in your home. This type of marble is not so sensitive to acid, found in citruses and different kinds of foods. This marble cannot be sealed, unlike any other type of marble. Sealing usually makes the surfaces more stain-resistant. Because of this, it's recommended not to be used in the kitchen for splashbacks or countertops.
Rosa Portugués Marble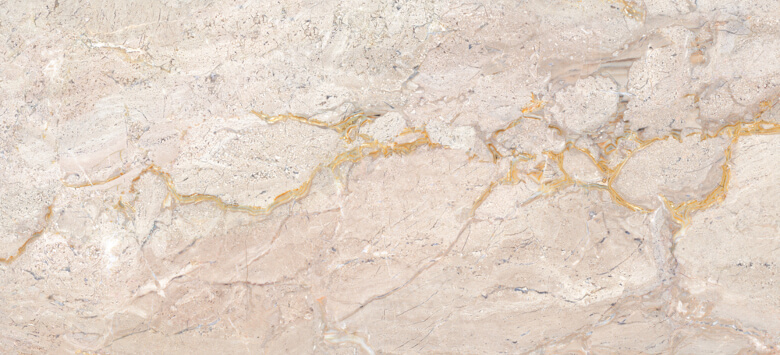 As you can tell by the name Rosa Portugués comes from Portugal and appears in all shades of pink with grey, white and even dark streaks. The marble can be used interior and exterior. It's perfect for tables, chairs, countertops and bathrooms. Treat stains as soon as they appear and regularly clean them to maintain their fabulous look for longer.
Amarillo Triana Marble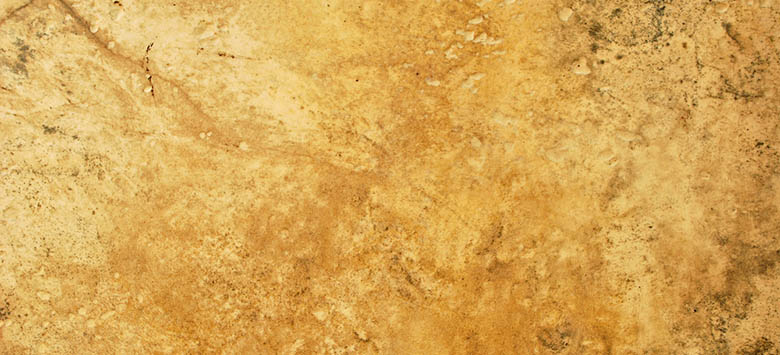 Amarillo Triana has a yellow surface with dark veins. The streaks throughout the surface are irregular and unique from any other type of marble. Amarillo Triana is quarried in Spain. It's not a popular choice and is one of the least used marble in renovations. It's an excellent choice for living rooms. Incorporating yellow in your home will bring joy and optimism to your life. This one can be used outdoors as well, as it's strong and weather resistant.
Verde Indio Marble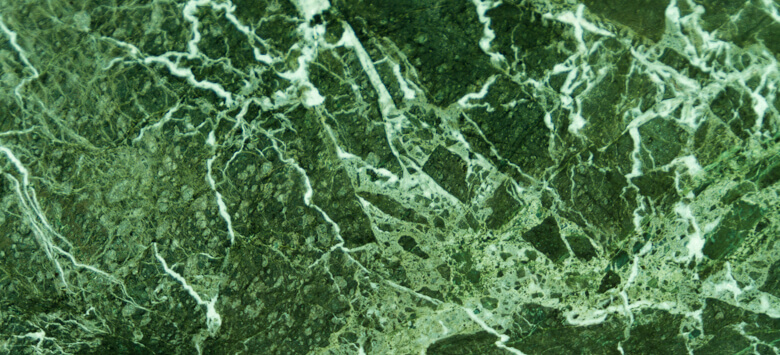 The last type of marble we'll review is Verde Indio. This is a green marble with dark streaks inside. It originates from India, and it can be found in various types, from stone with few streaks to one with very articulated white stripes. It can be used everywhere around your house because it's stain resistant. It's a perfect choice for floors, and it's able to give personality to every space. However, we advise you not to use it in outdoor spaces.
Why you should seal the marble and how to do it?
If you made it this far, then you probably noticed that sealing is important for marble, regardless of where you decide to use it. Sealing marble is a significant step for the maintenance of the stone. The reason it needs to be sealed is to protect it from absorbing any stains, especially grease. A common mistake is believing that because the marble is polished, it does not require any sealing. Polishing is only done to give a shiny look to the marble, and it does not protect it from dirt.
With that being said, let's look into how to seal marble and extend its life.
Important: Marble should be resealed every three to six months to add protection.
How to seal marble:
Read the manufacturer's instructions on the packaging of the sealer to make sure you follow the recommendation strictly.
Then, apply the sealer over the marble surfaces with a brush or a clean cloth.
Let the sealer do its magic for a couple of minutes and wipe it off with a clean cloth.
You can add extra protection to the marble against stains by using spray sealant once a month. You will still need to reseal every couple of months and wipe out spills as soon as they happen. But the spray will give you more time to treat stains before they start to damage the surface.
Remember, sealers won't make the stone completely stain-proof. Only make it stain resistant.
Takeaways
Marble is a beautiful natural stone, which is also a porous material that could easily absorb liquids and other substances. This is what makes it easily prone to staining and the soft material can sustain scratches, too.
Avoid treating marble with harsh chemicals, abrasive or highly acidic cleaners. In this category fall products like white vinegar, bleach, etc.
Water and mild soap are enough for a regular weekly cleaning.
Sealing marble is not the same as polishing. Sealing is necessary, so the marble's surface is protected from damage and is more resistant to staining.
We know it sounds like too much hassle investing in marble. The truth is, it's just a matter of learning how to treat and maintain the surface. Besides, you can always decide to take a break from all the cleaning duties and transfer them to a specialist instead.
Do you need help cleaning and maintaining your marble in top condition?
Opt-in for a professional cleaning by an expert in the field!