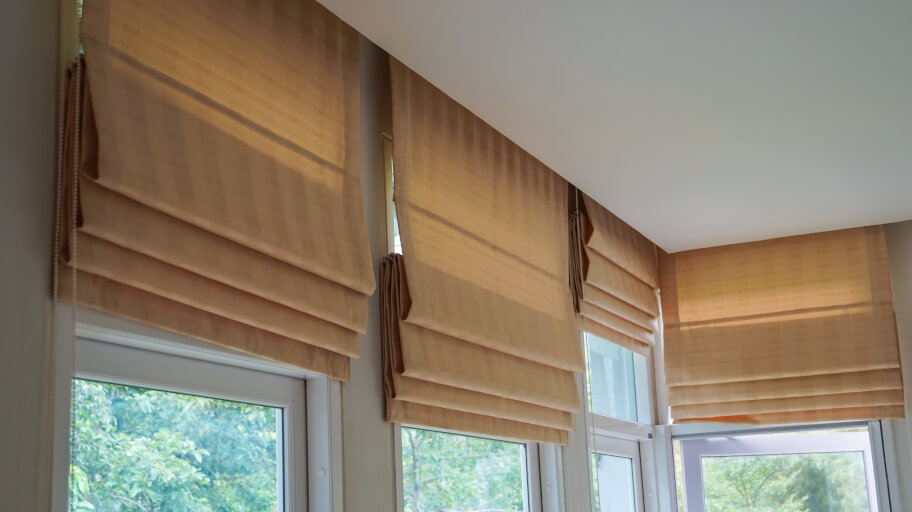 Durable and elegant, Roman blinds are a popular choice for window treatments in Australia and worldwide. They look especially good in bedrooms, living and dining rooms and suit contemporary tastes where clean lines and practicality wins out against excessive ornamentation.
When the theme is simplicity, perfect presentation is vital, so wherever you've installed them it's vital that you know how to clean Roman blinds.
The good news is that they can be easily maintained without even having to remove them from the window. Read on to find out how to clean fabric Roman blinds, how to clean canvas Roman blinds and how to keep your blinds looking smart and fresh.
If you're looking for advice on cleaning other sorts of blinds check out our article on the subject.
How to clean Roman blinds the easy way?
The easiest way to clean Roman blinds at home is to make the job part of your regular household cleaning schedule. Preventing dirt from building up in the first place is much more effective than trying to remove it once it's ingrained. You don't need any specialist tools or cleaning products, there's no need to take the blinds down and it shouldn't take you very long either.
What you will need:
A feather duster or microfibre cloth
A vacuum cleaner with an upholstery attachment
Steps (if your windows are high and you can't reach the top of the blinds without them)
How to clean Roman Blinds at home – step by step guide
Extend the blinds.

Fully open the blinds and hold at the bottom to keep the fabric taut.

Brush or vacuum.

Start at the top and work across and down the blinds so that you're not brushing dust over areas you've already cleaned. If the blinds are made of very delicate fabric it's best to use a feather duster or microfibre cloth, most blinds can be cleaned with your vacuum cleaner upholstery attachment.

Focus extra attention where needed.

Check for any folds in the fabric where dust may have accumulated. If the blinds have been left in one position for a long time you may see darker lines where the folds were before you extended the blinds so you'll need to dust or brush more here. It's also worth checking along the base of the blinds as this is another area where dust tends to accumulate.

Assess the results.

With all the surface dust removed you can check the blinds to see if there are any stains or marks that need extra attention.
How to remove stains and mould off Roman blinds?
If something has been spilt on the blinds or if they've become damp and got mouldy you'll need to do a little more work to get them back to pristine condition. There are a few different methods you can try to remove stains and mould from Roman blinds, the best one for your situation will depend on the nature of the staining and the type of fabric.
To preserve the fabric and avoid causing damage with your cleaning efforts, start with the gentlest cleaning solution that might be effective.
Always check and follow the care instructions of the Roman blinds before starting any cleaning.
Tools and products to remove stains from roman blinds:
Water
Gentle detergents
Stain removers
White wine vinegar
Borax solution
Clean towels
A spray bottle
A soft brush
Method 1 – Blot with fresh water
With the blinds still in place, dampen a clean towel and gently blot the blinds, start with an unobtrusive area to make sure the water won't leave a mark. Assuming it won't, move onto the stain and blot that. If the stain is recent and light this may be all you need.
Method 2 – Try a little detergent
Add dish soap or a laundry detergent designed for hand-washing delicate fabrics. Blot as above. Resist the temptation to rub the fabric. If the detergent works, finish with fresh water. Keep your towel well wrung out to avoid soiling the fabric.
Method 3 – A specialist stain remover
It's impossible to recommend a specific product as different Roman blinds are made of different fabrics and different stain removers work on different sorts of stains.
Check the care instructions on the blind before buying the remover, mix it according to the instructions and test on a hidden part of the blind.
Once you've established that the product won't damage the fabric, apply it to the stain, you can use a soft brush to work the product in if you need to. An old toothbrush is ideal.
Method 4 – How to clean mould off Roman blinds
Mix a cleaning solution of 1 part white vinegar to 4 parts water. Put this in a spray bottle. Take the blinds down and lay them flat.
Spray the solution over the blinds and leave it to sit for a few minutes then blot away the solution, and see if the mould lifts. If this doesn't work you can leave the solution for longer assuming the care instructions on the blinds don't indicate otherwise.
Once the mould is lifted clean the area with fresh water and allow your Roman blinds to dry completely before rehanging them.
Method 5 – Use borax solution to clean fabric Roman blinds
As an alternative to white vinegar, you can use a solution of half a cup of borax to two cups of hot water.
Apply this by spraying or using a clean cloth or sponge. Rinse with fresh water as described above.
Use the minimum amount of water required to remove the cleaning solution and let the blinds dry completely before rehanging them at the window.
Can you wash Roman blinds in the washing machine?
In theory, it's sometimes possible to wash some fabric blinds in the washing machine. In practice, it's rarely a good idea as they might shrink and even if the fabric is washable the cords or linings attached to it may not be.
It's much better to clean blinds regularly so that they never get dirty enough to need machine washing but if you must wash the blinds in your washer remove all cords first and use a delicate cycle. To avoid creases don't spin or tumble dry, hang the blinds in the sun to dry naturally.
Can you steam-clean Roman blinds?
Some Roman blinds that won't tolerate water washing can be steam cleaned. Check the fabric care instructions to see if this might apply to your blinds.
As with machine washing, it's better to avoid steam cleaning if possible but if you must, use the lowest temperature setting, stand well back and work quickly along the blinds to avoid soiling or overheating any one spot.
If you're worried you might damage the blinds this might be the time to call in professional upholstery cleaners who can steam or dry clean your Roman blinds for you.
Takeaways
Frequent dusting or gentle vacuum cleaning is the best way to clean Roman blinds;
Water-based spot cleaning is possible, avoid soiling the fabric and follow care instructions;
It's possible to remove mould from Roman blinds using cleaning products suitable for the fabric type.
Need some expert help to get your Roman blinds clean?
Contact Fantastic Cleaners or book your appointment online today.