Last update: 4 months ago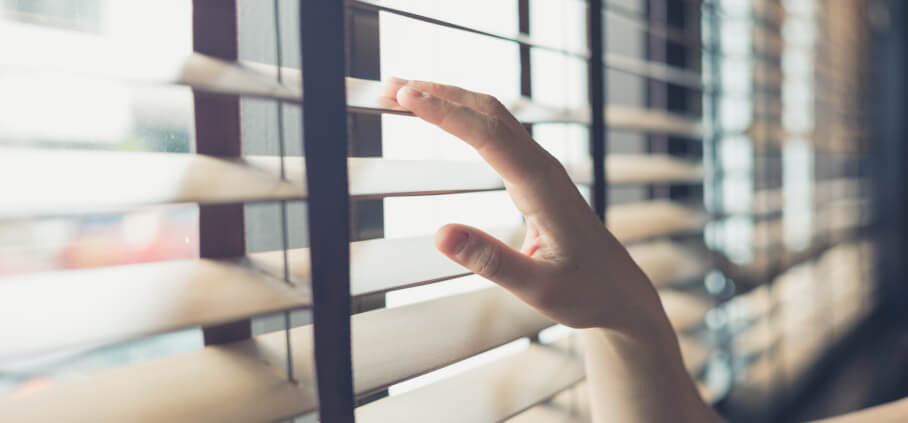 Venetian blinds are one of the most widely used window coverings. These blinds can make your home look splendid and add class and elegance to it. Unfortunately, while these are very useful and convenient, they require regular maintenance. To keep them in top condition, you need to clean them regularly. This article will give you directions on how to clean best your Venetian blinds to achieve that goal.
But don't think for a second that this is a regular, how-to cleaning article. This complete Venetian blind cleaning guide covers every type of blinds and connects them to the appropriate cleaning method.
How to lightly clean your Venetian blinds
You can use this method for regularly sprucing up your blinds every week or two, especially if you live in a highly dusty location.
The first thing you can try is to wipe off the blinds without taking them down. Use a rag and clean them by dusting very gently along their length. The goal is not to damage the fabric in any way, but free it from dust while still hanging. Always be gentle when cleaning your blinds in order to maintain their quality and allure.
If there are some stains on the surface of the material, you can use a mild soap or detergent solution to clean them off. The soap or detergent that you use should be mild enough to not damage the fabric. Do not wet the blind because this can harm it as well.
You can also clean your blinds using a duster. You can hold the duster under running water and then wipe off the blinds gently with it. This is a good way to remove any hard debris and dirt that are present on the surface of your blinds.
The last method that you can use involves vacuuming your blinds with a suction vacuum cleaner. This is perhaps one of the easiest ways to clean your Venetian blinds at home.
Deep cleaning your Venetian blinds the easy way
The best time to clean your Venetian blinds is in the morning when you put them down or in the evening when you pull them up. This will avoid any build-up of dust and also keep your home or office looking spic and span.
Step 1. Manually clean the blinds using a soft, lint-free cloth to wipe away any dust and debris on the slats.
Step 2. Rinse the blinds to remove any dust that has accumulated on them. You can use warm or cold water for this according to your preference.
Step 3. Apply a few drops of cleaning solution onto the cloth and wipe it across the blinds, working from top to bottom, side to side. Follow the manufacturer's instructions on the label.
Step 4. Remove the blind from the window to clean the bottom section and insert it back to dry.
Step 5. Allow around 24 hours for the blinds to dry out fully before putting them back into use.
Tip: To avoid mildew and fungal growth, wipe down your blinds with a cloth that has been dipped in vinegar.
How to clean different types of Venetian blinds
There are many sorts of Venetian blinds, and all of them require a specific cleaning approach. To make things easier for you, we have divided the types of Venetian blinds by material and described a step-by-step process to clean them. So, let's start with the first type:
Wooden Venetian blinds
Cleaning wooden Venitian blinds can be a difficult task. These kinds of blinds are made out of natural wood that is usually finished with a coat that is often oil-based. This means that it will be difficult to remove the dust and dirt from this kind of material. However, complicated doesn't mean impossible. With that in mind, here is how to safely clean your wooden Venetian blinds:
Use a clean and damp microfiber cloth. Do not use something that is either abrasive or too wet. Make sure that it will not leave any streaks when you use it on the blinds, as well.
Start cleaning from the top of the blinds and then slowly work your way down until you have cleaned all of them. Make sure that you are doing this carefully, as any amount of force can cause some damage to the wood, which is something that you definitely don't want.
Use the dry side of this cloth for the dustier areas of the blinds, and then use the wet side for those areas that have become dirty. They may be covered with fingerprints or some other greasy substance that has been left there by mistake.
If the blinds are REALLY dirty, consider using a specially made cleaner that will help you clean and preserve your wooden Venitian blinds. These different types of cleaners usually clean all sorts of surfaces, such as glass or wood.
Faux wood blinds
Next, come the Faux wood blinds, which are not any harder to clean. Here are some pointers to follow:
Start off by turning the blinds inside out so you can easily clean the fabric on the back of the blinds, then vacuum them thoroughly using a long hose attachment. It is important to vacuum them prior to washing so that the dust will be removed.
After you've removed the dust from the blinds, it's time for the heavy-duty cleaning. Mix a bit of dishwashing detergent with a small amount of warm water. It is a good idea to wear rubber gloves for this process just in case it gets too messy.
Start by wetting the blinds using a spray bottle and then apply the detergent and water mix liberally on the blinds
Scrub the blinds down with a sponge. Do this until you feel that they are clean. It's important not to overdo this part in order to avoid damaging the wood slats.
Remove the soap residue. You can use a wet rag and wipe down the blinds until they are clean.
Finally, you'll want to make sure that everything is dry, so take a dry cloth and run it through each swab.
Aluminium Venetian blinds
Cleaning aluminium Venetian blinds is a bit of a tricky process, especially if you have never done it. But if you follow these steps, you should be able to do it with no problems.
First, you should clean the inside of the blinds with a cloth that has been dampened in warm water and detergent. This will remove any dust and dirt build-up that might have accumulated over time, so it is very important to do this step correctly.
Once you have cleaned the inner sides of the blinds, it's essential to clean the external, too. All you need to do is repeat the same process that we've just described for the outer parts.
After you have cleaned the Venetian blinds, you will need to get a specifically used cloth for cleaning glass. You can then use this to wipe the outside of the aluminium slats down, and it should remove any smudges or marks that have been left.
Takeaways
You need to be extra careful when cleaning your Venetian blinds – you don't want to damage the material, regardless what it is.
Always dust the blinds before you apply any kind of moisture.
Use mild detergents, again, so you don't end up with stained or mouldy spots.
Make sure to dry off your Venetians blinds as best as you can before using them again.
Do you need a helping hand?
Hire a professional cleaning team!