November 4th, 2021
Fantastic Cleaners Team
News
Last update: 9 months ago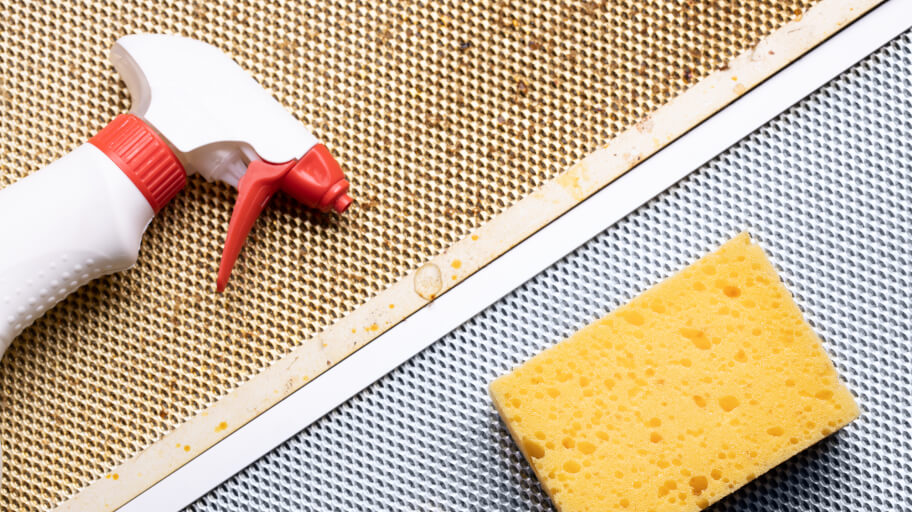 Did you know that your rangehood filter is one of the most neglected areas in your kitchen? It's true! Over time, these filters can become clogged with grease and grime, making them less effective at removing smoke and odours from your cooking area. But fear not! With just a few simple steps, you can have sparkling clean rangehood filters in no time. In this blog post, we'll share 9 easy-to-follow steps to help keep your rangehood filters clean and functioning properly. So whether you're a seasoned home cook or a newbie in the kitchen, read on to learn how to keep your kitchen smelling fresh and clean!
Charcoal vs mesh rangehood filter
Before getting started with cleaning rangehood filters, it's first very important to identify the type of filter or the rangehood filter material you have as this will determine your cleaning method. There are generally two types of filters on the market: charcoal and mesh rangehood filters. Here's a bit more information about each of them.
Charcoal filters
A charcoal rangehood filter is just what the name implies – they're made of carbon. These filters are used in ductless rangehoods. Meaning that the air inside the kitchen essentially gets sucked up through the filter, which then cleans it and releases it back into the kitchen. This type of filter is usually most prevalent in apartment buildings where ventilation isn't always an option. Also important to note is that charcoal rangehood filters can't be cleaned but need to be replaced regularly for optimal functionality. We suggest that you replace the charcoal filter every few months.
Mesh filters
There are also rangehood filters made of mesh, which are used for ducted rangehoods. These filters trap smoke, bacteria, grease, and other airborne particles into the filter. The mesh filters are usually stainless steel or aluminium. You can clean them using a variety of methods.
The cleaning process below is for stainless steel and mesh filters.
How to clean rangehood filters
Cleaning a rangehood filter may not be on your priority list, but it's one way of ensuring improved safety, air quality, and overall, a more pleasant cooking experience in your kitchen. This is why rangehood cleaning is recommended every few months. So, if you're wondering how to clean rangehood filters, here are the simple steps for doing so.
Step 1: Remove the rangehood filter.
This will depend on the model of rangehood that you have in your kitchen. Ultimately, they should either easily slide out, pop out, or in the worst-case scenario, need to be removed using a screwdriver. It's important to take a look at the rangehood manual and see the best way to remove it for optimal rangehood filter cleaning.
Step 2: Boil some water.
Using a tea kettle or a pot on the stove, bring the water to a boiling point. Hot water is an excellent method of removing grease from your stainless steel and mesh rangehood filter.Using a tea kettle or a pot on the stove, bring the water to a boiling point. Hot water is an excellent method of removing grease from your stainless steel and mesh rangehood filters.
Step 3: Get your detergents ready.
You can use liquid dish soap and baking soda for this. For the baking soda, around ¼ cup will be required. The liquid dish soap can be substituted with a natural detergent such as coconut soap or castile soap.
Note:
Besides using liquid dish soap and baking soda, you can also use water and vinegar solutions as well as a water and ammonia solution. With ammonia, it's critical that you don't physically touch this detergent, even when mixed with water as described in the steps that follow. Using gloves is one way of preventing harm to your skin. Read more about
cleaning products you shouldn't mix
.
Step 4: Submerge your rangehood filter in water.
If you have a large pot, you can also submerge your rangehood filter here. Alternatively, you can use your sink and just use the plug to pour all the hot water into it. Once you've added the hot water, you can then add your liquid dish soap to the mix (be generous) and then slowly add the baking soda to the water. As a final step here, you're ready to submerge your rangehood filter. However, it's advisable to exercise caution as you don't want to scald or burn your hands in the hot water.
Step 5: Let the rangehood filter sit for 20 minutes to an hour.
You'll need to let your rangehood filter sit in the hot water solution for a while before you can proceed to the next step. The reason for this is to give the hot water and detergents time to strip most of the grease off your rangehood filter. Although this is one step, it's not the last step in the process.
Step 6: Use a non-abrasive brush to scrub the rangehood filter.
Once the hot water solution has cooled down to around lukewarm, you can finally get your hands dirty and get to cleaning your rangehood filter thoroughly. Using a non-abrasive brush, start scrubbing the rangehood filter until the grease, food particles and trapped oil start coming off.
Step 7: Place your rangehood filter in the dishwasher (optional).
Once you've scrubbed your rangehood filter thoroughly, you can also place it in the dishwasher for an extra clean. Use the pots and pans setting, which typically uses a lot of hot water, and which is useful for getting rid of smaller grease particles you may not have been able to remove manually.
Step 8: Let your rangehood filter dry.
Once you're done with the main cleaning process of cleaning your kitchen's exhaust filter, it's best to let it air dry. Alternatively, you can use a dry cloth to help soak up some excess water. But the most important thing to keep in mind here is that your rangehood filter needs to be completely dry before placing it back on your rangehood. This will help prevent electrical shocks and potential hazards.
Step 9: Put your rangehood filter back in place.
Once your rangehood filter is completely dry, you're ready to place it back in place in your rangehood so that you can use it once again. Be sure to read the rangehood filter manufacturer's instructions and follow the specific steps for your model of rangehood to ensure a trouble-free installation.
Have your rangehood professionally cleaned
This type of cleaning chore sure sounds exhaust-ing. We won't be surprised if it made you rethink whether your rangehood is that dirty. But we assure you that sooner or later you'll have to get to this chore. And when you do, you can always rely on professionals to clean your rangehood inside and out. There's a good chance that if the filters are due for a cleaning, the kitchen ducts and oven also need a good scrub. Consider booking a professional kitchen cleaning service in case you are too busy.
Book your professional rangehood cleaning today
Rely on the professionals to give you a healthy and clean kitchen once again!
Takeaways
One of the best ways to clean rangehood filters is to be thorough and take your time. Here's what you need to know about cleaning rangehood filters in brief:
Determine the type of material that your rangehood filter is made of;
Charcoal filters cannot be cleaned and should be replaced every few months;
Stainless steel or aluminium mesh filters can be cleaned manually;
Soak the filter to loosen the build-up grease;
Use a non-abrasive brush to scrub off grease and oil;
After cleaning, you can also place your filter in a dishwasher for even better results;
Make sure your filter is completely dry before putting it back in place;
You can always hire cleaners to clean your rangehood filters and kitchen ducts professionally.