Professional Cleaners Marrickville - Live a chore-free life and leave the housework to the experts!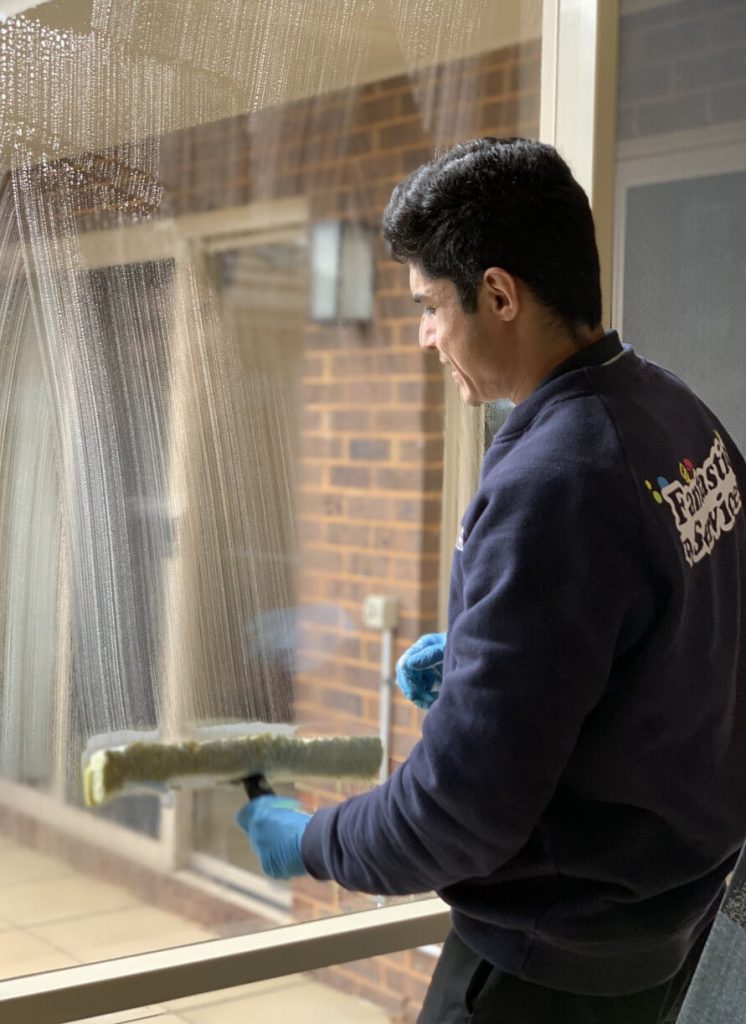 Why waste your weekends buried in tedious house chores when you can have a professional do all the work for you. We offer cleaning solutions for both domestic and commercial properties, performed by experienced local cleaners. Enjoy your free time and book with Fantastic Cleaners in Marrickville to enjoy high-quality results and spend your time with the people that matter.
Why choose the professionals of Fantastic Cleaners
Flexible schedule with full week availability, including weekends and public holidays.
Working only with trained and friendly local cleaners to support the community and provide our clients with the best possible experience.
Special discounts when combining services.
24/7 Customer Care team available.
Easy to use online booking form and available representatives 24/7.
Detergents and equipment are included in the price.
Choose your cleaning service
For all of our clients with domestic or commercial properties, we offer a one-off cleaning service or a regular cleaning service. Both can be tailored to your specific needs and are performed by vetted and trained professionals.
One-off cleaning. This service is an hourly-based cleaning session that works with your own personal priorities. You can book as many people as you need to. For a small one-off, you can have a single cleaner or a full team of 3 people. They will use professional detergents and equipment to achieve maximum results. All included in the price. The cleaners can vacuum and mop all floors, polish and dust fixtures, appliances, kitchen countertops, worktops, furniture, bathrooms and much more. You tell us what you need and we will do it. Do you need a deep kitchen clean? No problem! We will take care of it before anything else and make sure that all of your priorities and cleaning desires are satisfied in the end. You can also request an interior window and glass door cleaning, bathroom descaling and much more.
Regular cleaning. Have your property cleaned on a regular basis and fully customize the service to your needs. You choose the day, the time of the appointment, the maid that will clean, and the frequency of the service and how long each session will be. If you like a specific cleaner you can also give them your keys so that you don't have to always be present during a cleaning session. You can skip a cleaning if you need to or change the day if it no longer suits your schedule. Here is a list of all the maid can do during a regular cleaning session:
Mop and vacuum the floors;
Change the bedding;
Remove cobwebs;
Polish and dust all fixtures, appliances and surfaces;
Empty the waste bins and put new bin bags;
Watering the plants;
Wash the dishes;
Do the laundry and iron.
Just like the one-off cleaning, this is an hourly service that is based on your priorities. Please list what are your specific needs when you book in your appointment for the first time and the cleaner will gladly follow them. We kindly ask that you don't request of the maids to lift any heavy items, cook or take care of your children.
Take a look at our other service options
Want to take the extra step and make your home look even better? Then why not book one of our other services and save a bit of money? Yup, you read this right - if you combine your cleaning service with one of our other solutions you can lower your end cost. Here are a few ideas:
External window cleaning - Make your windows look new again with our eco-friendly methods.
Professional carpet cleaning - Tired of your dusty carpet? Book effective carpet cleaning service!
Expert oven cleaning - A greasy, sticky oven is definitely not a sight to behold. Have the appliance scrubbed cleaned and polished by our pros.
Hard floor scrubbing - Don't waste time in pesky chores like scrubbing the floor, when the Fantastic Cleaners can do it for you.
Frequently Asked Questions
Q: Can I have my regular cleaning on the weekend?

A: No problem! We have available cleaners for every day of the week.

Q: How often can I have my housekeeping appointments?

A: You choose the frequency of your service. You can have someone to come over every week, or maybe fortnightly. Whatever suits your needs.

Q: Do I need to provide cleaning detergents and equipment?

A: Unless you have any specific surfaces that need to be cleaned, the answer is no. All cleaning products and equipment are included in the price of both the one-off service and the regular cleaning.

Q: Can I reschedule my one-off cleaning service?

A: Absolutely! Just call the Customer Service team at least one day prior to the service and they will let you know of all scheduling opportunities.
See what our clients have to say